WikiLeaks Founder's Son Defends Him, Calls His Actions 'Audacious Awesomeness'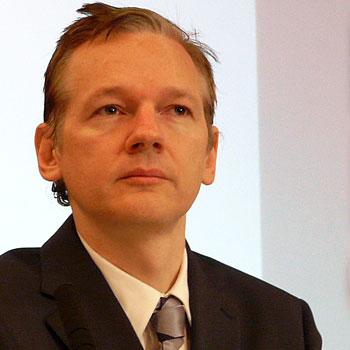 Australian Julian Assange is the 39-year-old founder of the controversial website WikiLeaks which recently published over 250,000 classified U.S. Documents. RadarOnline.com has learned his 20-year-old son Daniel Assange is supportive and describes what his father is doing as "awesomeness."
"I have much respect for my father and his cause," Daniel wrote recently on his website in a post titled "'My Wiki dad needs a break, ffs."
Article continues below advertisement
"And these ridiculously ill-handled allegations of sexual abuse serve only to distract from the audacious awesomeness that he has actually done."
Julian is currently being investigated for the rape and sexual molestation of two women this past August in Sweden, though he's denied the charges.
Four years ago Julian asked his then 16-year-old son to join him in his WikiLeaks journey, but Daniel declined and became estranged from his father in 2007.
"It was a ridiculous concept, that he was going to actually leak government documents to the entire world," Daniel said in a September interview with an Australian publication of his eccentric father.
"I am very surprised that the governments haven't actually done what some of the journalists have been recommending, which is to just assassinate him."
Highly intelligent and perhaps a bit peculiar like his father, Daniel describes himself as "an avowed atheist, bisexual, transhumanist, appreciator of Pokémon and a host of other self-identifications that lead elderly conservatives to slowly shake their heads and mutter incoherently about the mounting degradation of moral fortitude in modern society."
Article continues below advertisement
Daniel is currently employed as a software developer for Noble Samurai and says he "harbours sic a spotty academic background in the field of molecular biology with corresponding delusions of potential amateur grandeur."
VIDEO: Whoopi Goldberg Vs. Bill O'Reilly, Round II
As RadarOnline.com previously reported, Julian has a vast background in mathematics, science and computers, and was convicted on a computer hacking charge in 1995, as he'd reportedly committed his misdeeds under the moniker Mendax. His involvement with computers continued through the late 90s, as he worked developing encryption systems.
In 2006, he founded WikiLeaks, which claims its "goal is to bring important news and information to the public" by publishing classified documents of interest, particularly about the American war efforts in Afghanistan and Iraq.
"I haven't seen any evidence that there was any actual non-consensual sex involved at any point, so it looks to me that it's just some sort of cultural misunderstanding or general social failure on the part of my father or the women that's led to the situation," Daniel told the Australian publication.