Exclusive
NBC Slammed By Support Group For Airing Jerry Sandusky Interview 'Disrespects All Sexual Abuse Survivors'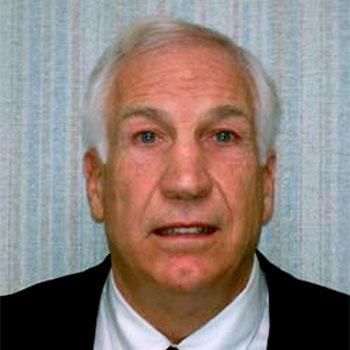 A controversial jailhouse interview between filmmaker John Ziegler and convicted child abuser Jerry Sandusky has already sparked angry explosions after NBC aired a clip during a segment of Monday's TODAY - and a support group tells RadarOnline.com exclusively that the insensitive scheduling decision has brought renewed trauma to the countless victims of abuse.
"This just further illustrates the importance of recognizing, investigating, and acting on signs of child sexual abuse. Ziegler's appearance on the TODAY Show was overshadowed by the words of a man who is still clearly unrepentant and unwilling to own up to the pain he has inflicted in so many," Jolie Logan, President and CEO of Darkness to Light, a non-profit group that empowers people to prevent child abuse, tells RadarOnline.com.
Article continues below advertisement
"Jerry Sandusky had his day in court. Do we really care what he has to say now?" Logan asks.
"The Sandusky case brought the issue of child sexual abuse to the public eye. While there is great value in keeping this subject alive in the media, interviewing Sandusky is not the best means to accomplish this goal. We are not pleased that Jerry Sandusky continues to have opportunities to appeal to the public - it is disrespectful to all sexual abuse survivors."
As RadarOnline.com previously reported, the bombshell interview with the shamed former Penn State assistant coach put embattled anchor Matt Lauer in the hot seat over his uncomfortable conversation with Ziegler — and has driven the TODAY crew's morale to an all-time low.
In Ziegler's documentary, The Framing of Joe Paterno, he calls the legal case against Sandusky "remarkably weak" - he also outrageously claims that the sexual assault Mike McQueary said he witnessed was actually a "botched grooming," and feels that there were numerous errors of due process during the trial.
Article continues below advertisement
When questioned from behind bars at his Pennsylvania prison earlier this month, the 69-year-old sex offender laughed when he expressed his disbelief that McQueary could have heard "sounds associated that was sex going on" in the locker room.
"I mean, that would have been the last thing I would have thought about. I would have thought maybe fooling around or something like that," he said.
Just like a grisly car crash that you can't look away from, Logan believes that, "society has a natural morbid curiosity about people who could commit such heinous crimes against children.
MORE ON:
Celebrity Justice
"The thought of hurting children is so incomprehensible to most of us that we feel desperate for answers and explanations," she tells RadarOnline.com, emphasizing however that such answers can not be found in the lies of Jerry Sandusky.
"Allowing him the opportunity to appeal to the public can do great damage to the progress we are making towards better protecting our children. And it disrespects survivors of sexual abuse in the process," she adds.
Article continues below advertisement
Instead, Sandusky's victims deserve peace and time to recover from both the nightmare they suffered at his hands and from being catapulted into the spotlight.
"They do not need to turn on the television and see the face of the man who stole their innocence. We must respect survivors and concentrate on prevention and healing, not sensationalism," Logan vows.
While Darkness to Light does not agree with the decision to feature Sandusky in the media, the nonprofit help group hopes that seeing his face and hearing his words once again angers people enough to take action to fight against child abuse.
"The tragedy is an enormous example of how adults fail to protect children. Whether or not our intentions were good, we as a society failed," Logan says.
Now, not only is the The Framing of Joe Paterno promoting Sandusky's celebrity status, but the filmmaker is also threatening to release the identity of "Victim 2," claiming that he doesn't deserve the right to anonymity.