Controversial Sandusky Filmmaker Threatening To Release Identity Of 'Victim 2'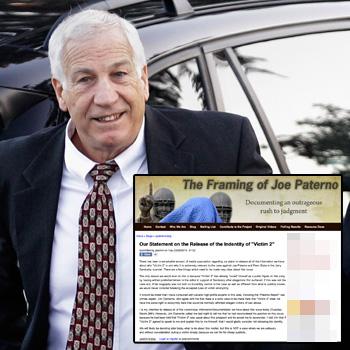 The filmmaker behind the controversial documentary, The Framing of Joe Paterno, is threatening to release the identity of Jerry Sandusky's "Victim 2," RadarOnline.com is reporting.
Conservative radio host/filmmaker John Ziegler, who was recently interviewed by Matt Lauer on NBC's TODAY show, has taken to his blog to suggest that the unknown innocent is someone who doesn't deserve the right to anonymity.
Article continues below advertisement
"It should be noted that I have consulted with several high profile experts in this area, including the 'Paterno Report' sex crimes expert, Jim Clemente, who agree with me that there is a solid case to be made here that 'Victim 2' does not have the same right to anonymity here that would be normally afforded alleged victims of sex abuse," Ziegler writes.
"It is my intention to release all of the voluminous information/documentation we have about this issue today (Tuesday March 26th). However, Jim Clemente called me last night to tell me that he had reconsidered his position on this issue because he had been told that 'Victim 2' was upset about this prospect and he asked me to reconsider. I told Jim that if 'Victim 2' agreed to speak to me and explain this to me himself, that I would gladly consider not releasing his identity."
MORE ON:
Celebrity Justice
Ziegler says that he and Clemente will be deciding later whether to post the victim's identity or not -- adding, "but this is NOT a case where we are callously and without consideration outing a victim simply because we can for cheap publicity."
As RadarOnline.com previously reported, NBC has come under attack for airing an interview with Sandusky carried out by Ziegler for his documentary.
In the film, Ziegler calls the legal case against Sandusky "remarkably weak." He also outrageously claims that the sexual assault Mike McQueary testified to witnessing was actually a "botched grooming."
"I made it very clear to everyone here, including Sandusky, that I am not supportive of him and some of my questions of him were actually much tougher than any he has ever faced," Ziegler wrote in a previous blog post last weekend.