Filmmaker John Ziegler NOT Happy With Matt Lauer's Interview About Controversial Sandusky Film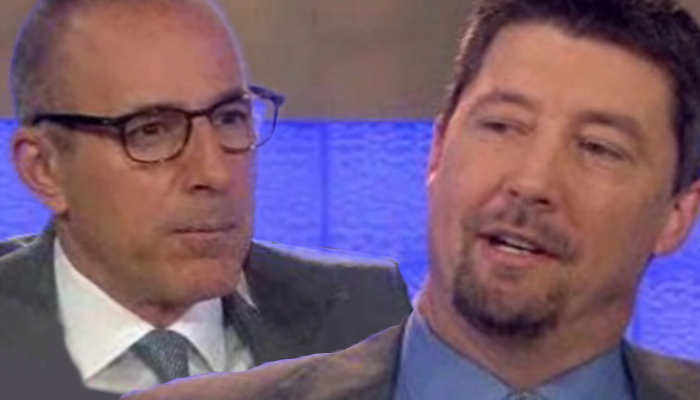 Matt Lauer's not happy… NBC's not happy… And now, we've learned that even the filmmaker behind the controversial documentary about convicted child molester Jerry Sandusky is NOT happy with his appearance on Monday's TODAY during which he was grilled by the embattled co-host of the once dominate morning news program.
As RadarOnline.com previously reported, John Ziegler, a conservative radio host and documentary filmmaker, was interviewed by Lauer about his jailhouse interview with Sandusky – an interview which Ziegler claims will help exonerate the late Joe Paterno, the famed Penn State football coach whose role in the sexual abuse scandal ended his career, prior to his death.
Article continues below advertisement
The interview - which focused on Ziegler's film, The Framing of Joe Paterno - turned out to be another black eye for the fledgling TODAY, which has endured months of negative press since the disastrous firing of Ann Curry as co-host last summer.
Part of the problem is that while pre-promoting the segment, NBC is being accused of misleading viewers by making it appear that it had conducted the interview, which it had not.
Ziegler - a self-admitted supporter of Paterno - has now said the interview did not come off very well, and he's blaming the Peacock Network. ​
"I didn't like the parameters they were setting. Rules were changing as I was getting closer to the studio," John Ziegler told The Daily Beast. "They were putting me in an insanely restrictive situation about what I could say."
Although Lauer is said to be upset in hindsight about having done the interview, Ziegler says he doesn't blame Lauer for changing the direction of the interview last-minute. He does say he regrets that he wasn't allowed to focus on the changing story of the "shower boy" – a key part of the case - as well as other information he says he discovered in his investigation.
Article continues below advertisement
Ziegler is also calling into question the testimony of Mike McQueary, the former assistant football coach who told a grand jury that he witnessed Sandusky raping the boy, known only as Victim No. 2, in the campus locker room in 2001. The filmmaker calls into question McQueary's memory, as his testimony came 10 years after the alleged incident. He also outrageously claims that the sexual assault McQueary said he saw was actually a "botched grooming."
Ziegler also claims he knows the identity of Victim No. 2 – which was never made public – and he claims that he has on-the-record proof of the man saying in 2011 that "the accusers of Jerry Sandusky are not to be believed and that Jerry Sandusky was the greatest thing that ever happened to him."
During Ziegler's interview with Sandusky, the convicted sex offender says Paterno would not have let him be a coach if he knew he was a pedophile. But Sandusky does admit that "if Paterno had a suspicion? I don't have an answer for that."
Article continues below advertisement
Ziegler feels that there were numerous errors of due process in Sandusky's trial and he calls the legal case against him "remarkably weak."
He did concede, however, that he believed Sandusky was guilty of "many, if not all, of the things he was convicted of."
It would appear Ziegler's documentary suddenly became too hot to handle for NBC.
"Once the NBC lawyers got involved, everyone's ass had to be covered," he told The Daily Beast. "In the short attention span theater in which we live, the segment had to include a statement from one of the victim's lawyers, from Penn State and a statement from the Paterno family. Half of the segment's time was spent on butt-covering instead of talking about new elements of the story," Ziegler said.
As RadarOnline.com previously reported, Lauer also wasn't happy with the interview and feels he was set up to fail.
"Morale just couldn't get any lower among the cast and crew of TODAY. Matt feels that he was set up by producers to fail by participating in the interview with Ziegler. Matt didn't think it was a good idea to air it to begin with. Jerry Sandusky is a convicted child rapist, and Matt's feeling was, let's talk to the victims, and not him. However, he wanted to prove he was a team player and did it. Producers thought it would generate a lot of publicity, but they had no idea it would have garnered so much controversy," a show insider told Radar.
However, Lauer is now "very suspicious of the timing of the airing of the Sandusky interview, amidst an interview he did with New York Magazine about the turmoil behind-the-scenes at TODAY in the days leading up to and after Ann Curry was fired. Matt is trying to do everything he can to save the sinking ship, but he now wonders openly if NBC is setting him up to fail. Matt just doesn't know who he can trust anymore," the source revealed.