NBC Slammed For Airing Sandusky Interview, Matt Lauer Feeling The Heat!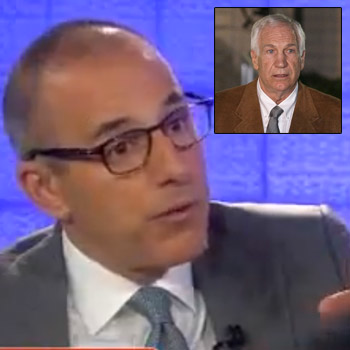 NBC News has come under attack for airing an interview with Jerry Sandusky that was carried out by controversial filmmaker, John Ziegler.
Matt Lauer anchored the controversial segment, looking extremely uncomfortable as he spoke with Ziegler about his views on Sandusky.
When first promoted, the Sandusky "interview" was presented as if it has been obtained by NBC News journalists. However it was actually an excerpt from a very subjective film by Ziegler called The Framing of Joe Paterno.
Article continues below advertisement
In the film, Ziegler calls the legal case against Sandusky "remarkably weak" during key moments in the investigation. He also outrageously claims that the sexual assault Mike McQueary said he saw was actually a "botched grooming."
"I made it very clear to everyone here, including Sandusky, that I am not supportive of him and some of my questions of him were actually much tougher than any he has ever faced," Ziegler wrote in a blog past last weekend.
Even Paterno's family cried foul at the interview, labeling it a "sad and unfortunate development" and "an insult to the victims and anyone who cares about the truth in this tragic story."
Eventually, Ziegler conceded that he believed Sandusky was guilty of "many, if not all, of the things he was convicted of."
Jerry Sandusky's Adopted Son Drops Bombshell: I'm A Victim Too!
However, he does feel that have been errors of due process in Sandusky's trial.
Article continues below advertisement
Ziegler then showed Lauer documents which he claimed came from 'Victim 2,' who he said denied having been molested by Sandusky in a shower.
Lauer jumped in to say that NBC News was not going to identify the child, despite Ziegler revealing his identity in his film.
Shockingly, the Today show then aired excerpts of Ziegler's Sandusky interview where he disputes McQueary's story.
Sandusky even laughs at the suggestion he raped the boy in the Penn State showers!
"I personally believe that the media ... they don't want to hear what the truth is," Ziegler told Lauer in defending his Sandusky interview. "This has been a rush to judgment from the very beginning."
Visit NBCNews.com for breaking news, world news, and news about the economy