Exclusive
Matt Lauer Feels NBC Set Him Up To Fail In Wake Of Controversial Jerry Sandusky Interview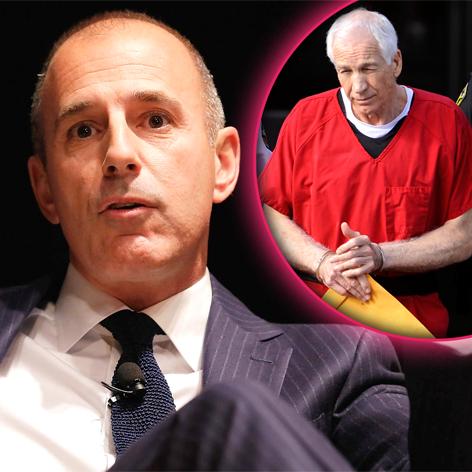 Poor Matt Lauer! The embattled TODAY co-host just can't seem to catch a break lately. Lauer is furious with the show's producers for putting him back in the line of fire for airing an interview that controversial filmmaker John Ziegler did with convicted child rapist and former Penn State assistant football coach Jerry Sandusky, RadarOnline.com is exclusively reporting.
As we previously reported, Lauer anchored the controversial segment, which aired on Monday morning, looking extremely uncomfortable as he spoke with Ziegler about the Sandusky story.
Article continues below advertisement
"Morale just couldn't get any lower among the cast and crew of TODAY. Matt feels that he was set up by producers to fail by participating in the interview with Ziegler. Matt didn't think it was a good idea to air it to begin with. Jerry Sandusky is a convicted child rapist, and Matt's feeling was, let's talk to the victims, and not him. However, he wanted to prove he was a team player and did it. Producers thought it would generate a lot of publicity, but no had any idea it would have garnered so much controversy," a show insider told RadarOnline.com exclusively.
In Ziegler's documentary, The Framing of Joe Paterno, he calls the legal case against Sandusky "remarkably weak" during key moments in the investigation. He also outrageously claims that the sexual assault Mike McQueary said he saw was actually a "botched grooming." Ziegler feels that there were numerous errors of due process in Sandusky's trial.
He did concede, however, that he believed Sandusky was guilty of "many, if not all, of the things he was convicted of."
However, Lauer is now "very suspicious of the timing of the airing of the Sandusky interview, amidst an interview he did with New York Magazine about the turmoil behind-the-scenes at TODAY in the days leading up to and after Ann Curry was fired. Matt is trying to do everything he can to save the sinking ship, but he now wonders openly if NBC is setting him up to fail. Matt just doesn't know who he can trust anymore," the source revealed.