Exclusive
Ann Curry Being Treated Like 'Evil Stepsister' At NBC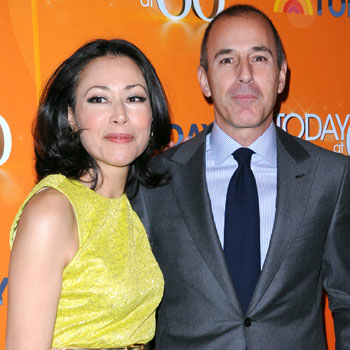 Here we go again.
Ann Curry woke up to yet another media interview that her former colleague Matt Lauer did, rehashing the popular journalist being fired from her co-hosting gig.
Staffers of TODAY are bristling at the latest interview Lauer, Savannah Guthrie, and Al Roker gave to New York Magazine, trying to drum up ratings, while Curry, is being treated at the "evil step-sister" because the network has muzzled her and won't let her speak to the media, RadarOnline.com is exclusively reporting.
Article continues below advertisement
"When is enough going to be enough? What is the publicity department at NBC thinking? This strategy of having Matt Lauer go public and speaking out about Ann being fired from the show, only proves to the public that he never liked her, and did get her ousted! The interview the cast did with New York Magazine has confirmed viewers suspicions about how truly bad things are right now with TODAY. Meanwhile Curry isn't allowed to talk to the media. Numerous media outlets have wanted to interview Curry, but every single one has been told she isn't available. It's just not fair to Ann. If Matt is going to go out and bring up stuff from the past that includes Ann, they should at least have the decency to let her respond," a source tells RadarOnline.com exclusively.
According to this week's New York magazine, Lauer, 55, was in the final stages of making a deal with ABC last year to jump ship. It was considered a done deal by those involved, including Bob Iger, CEO of ABC parent Disney, ABC News boss Ben Sherwood, and even Lauer's own agent.
As part of the lucrative multi-million dollar deal, Lauer would have appeared on various ABC programs, including Good Morning America, and he would even have been a co-host on the Disney-produced Katie Couric talk show.
Article continues below advertisement
Then, without warning, Lauer – who ironically could now lose his job at TODAY amid the ratings freefall – changed his mind and decided to say put at the Peacock Network.
Lauer's decision to stay at TODAY put into place a series of events that led to the eventual departure of Curry as co-host, which resulted in TODAY imploding in the ratings, Lauer's image being badly tarnished, and the loss of tens of millions of dollars in revenue for the struggling network.
When he decided to stay at TODAY, NBC execs, including NBCUniversal CEO Steve Burke, decided something needed to change at the once dominant morning show and that Curry would be the one going — and Lauer, who holds considerable clout at TODAY, didn't fight for her. NBC lured Lauer to stay by giving him a four-day work week and a $25 million-a-year raise.
Our sources tell us, "when are the suits at the network going to get it, the problem is Matt Lauer. Rolling Matt out to do media interviews trying to spin it in ratings disaster and fallout from Ann Curry's demotion is just pissing the crew off. Many of them are saying TODAY is a s**t show. Quit the spin, and get rid of Lauer, and watch how quickly things change in the ratings!"
Curry's disastrous exit last summer — in which she cried and ignore an awkward kiss on the cheek from Lauer –- resulted in the show losing its #1 status to Good Morning America and the show has since not recovered.