Exclusive
LeAnn Rimes Twitter Lawsuit: Teacher's Lawyer Drops Her, New Attorney Steps In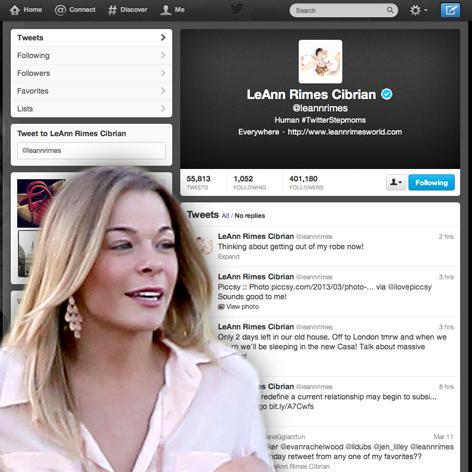 In a strange twist to the LeAnn Rimes' Twitter lawsuit , an attorney representing teacher Kim Smiley and her daughter Lexi has dropped them as clients, petitioning the court to allow his release from the case, RadarOnline.com is reporting exclusively.
Attorney Kenneth Freundlich first attempted to get Smiley to sign a form allowing him to withdraw from representing her. When Smiley refused, he filed a motion in Los Angeles Superior Court and the judge granted his request.
Article continues below advertisement
"That's highly unusual," one source told Radar. "Usually a lawyer and client agree to separate and the lawyer doesn't have to ask the court to let him out." But Radar has learned exclusively that the relationship between lawyer and client broke down quickly and Freundlich's leaving was just a matter of time.
Freundlich had to tell the judge privately his reason for wanting off the case, a source told Radar. He first filed court papers claiming that he had "irreconcilable differences concerning this case and as a result there has been a complete breakdown in the attorney-client relationship. My firm cannot represent these clients in any manner in this case."
Rimes is suing Smiley, a teacher and mother of six, for invasion of privacy, claiming she illegally recorded a telephone conversation after Rimes phoned her. The suit has created controversy , as many close to Rimes claim she was the victim of social media bullying .
But others involved believe that Rimes' has acted improperly on Twitter and that – at a minimum – many close to her have antagonized her detractors. People close to Smiley says that Rimes' lawsuit is a bullying tactic against a person of limited financial means.
Article continues below advertisement
Freundlich refused to tell RadarOnline why he no longer wanted to represent Smiley.
After responding to several questions with "no comment," Freundlich said, "She came to me. I represented her for a while and then I was through."
Smiley's new attorney is Stephen White. He could not be reached for comment. Kim Smiley referred Radar to her new attorney for comment. A case management conference is scheduled for April 9.
Freundlich tried to get Smiley to sign a withdrawal form, one source told Radar. Smiley refused and forced him to go to court, while replacing him with White.
One source in Rimes' camp told Radar that the lawyer withdrew because he saw problems with Smiley's case. But Freundlich would not tell Radar why he asked out and why he was forced to file a motion to get out of the case. And another source said the client was at least equally as unhappy as the lawyer with their partnership.
Rimes has been a center of controversy on social media because of her affair with Eddie Cibrian and their subsequent marriage. Eddie's ex wife Brandi Glanville has also stoked the controversy and extensively discusses LeAnn and Eddie in her new best-stelling book, Drinking & Tweeting: And Other Brandi Blunders.