Brandi Glanville: 'LeAnn Rimes Needs To Get Help, She May Be Unstable'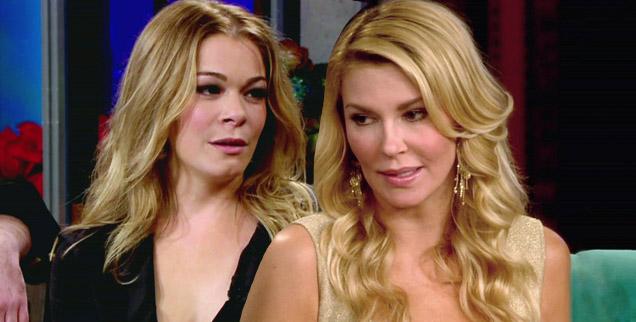 Brash beauty Brandi Glanville is once again dissing LeAnn Rimes, saying the country singer needs professional help while raising the very serious allegation that she's not stable.
The Real Housewives of Beverly Hills star – currently on a whirlwind book tour to promote her bombshell new memoir - told Life & Style, "LeAnn needs to get help. She may be unstable, and I am concerned. I want to protect (my children). I want to make sure she's as healthy as she can be."
Article continues below advertisement
Glanville, 40, made her comments to the magazine at NYC's Miami Lounge at Stone Rose on February 12 at an event to promote her explosive tell-all book, Drinking & Tweeting and other Brandi Blunders.
Life & Style reports that Glanville "raised a few eyebrows" at the event when she confided to pals that she had left her two sons (Mason, 9 and Jake, 5) with a nanny - and not with ex-husband Eddie Cibrian and his new wife LeAnn.
"There are clearly some issues going on, and I need to know my kids are okay when they're with (LeAnn)!" she told the mag.
The singer's rep came to Rimes' defense, telling Life & Style, "This is a ploy to sell more books. If anyone needs help, it's Brandi. That should be obvious to anyone who's read her tweets."
Drinking & Tweeting and other Brandi Blunders is in stores now.