Ouch! Brandi Glanville Says Adrienne Maloof Must Be Getting Free/Discounted Plastic Surgery, As It 'Shows In The Work'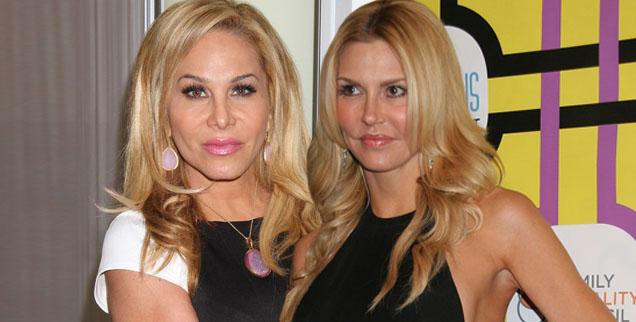 The feud between Beverly Hills Housewives Adrienne Maloof and Brandi Glanville is reaching LeAnn Rimes proportions.
Brandi uses her latest Bravo blog out to call out her castmate for a hat trick of insults, and we've got a comprehensive recap of it right here for you on RadarOnline.com.
The first no-no on Monday's episode, Brandi said, was when Adrienne repeatedly said her (then) husband Paul Nassif could have done a better job on Kim Richards' new nose job than the attending surgeon, Dr. Gregorios.
Article continues below advertisement
"This is an insult to not just to the doctor but also to Kim," Brandi wrote. "I found Adrienne's comments to be in extremely poor taste. She then later tried to poorly recover from her rude comments."
Adrienne's next no-no, according to Brandi, was saying Brandi "didn't have money for anything but plastic surgery" on camera, which Brandi said was untrue because her ex-husband Eddie Cibrian paid for the operations.
Then Brandi dropped the bomb as only she can, writing, "Now, if anyone shouldn't be talking plastic surgery it's Adrienne because clearly she has had more then all of us combined and is either getting it for free or at a discounted rate, which shows in the work."
Finally, Brandi got on Adrienne for her actions after inadvertently staining castmate Lisa Vanderpump's couch with tanner, the second time Lisa said Adrienne has ruined a piece of furniture at her home.
"Rather then apologize or offer to reimburse Lisa for ruining her furniture, she just shrugs it off as any rich entitled person without a conscience would," she wrote. "It's Adrienne's world and we are all just lucky to be there."
Brandi's new book Drinking and Tweeting and other Brandi Blunders, is in stores now.