Yolanda Foster Calls Adrienne Maloof 'Arrogant,' Tired Of Her Belittling Brandi Glanville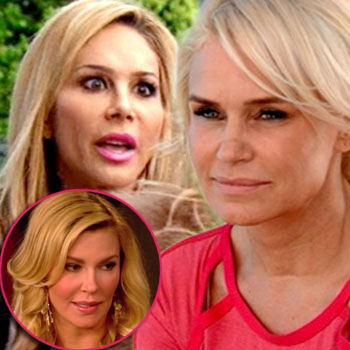 Though she usually stays in the background, Yolanda Foster – the newest member of The Real Housewives of Beverly Hills' dysfunctional family – is proving to be no shrinking violet.
In her latest blog entry, titled "Mean Girl Remarks," posted Monday on the Bravo website, the statuesque former Dutch model offers some kind words for castmate Adrienne Maloof, but then calls her "quite arrogant," comments on her crumbling marriage to Dr. Paul Nassif, and calls her belittling of nemesis Brandi Glanville "unattractive and unproductive."
Article continues below advertisement
As RadarOnline.com previously reported, on Monday night's episode of The Real Housewives of Beverly Hills, Yolanda – the 49-year-old wife of uber successful music man David Foster – became irritated with the ladies during a dinner party in Las Vegas, when the conversation kept turning back around to Adrienne, who didn't make the trip. As fans of RHOBH know, Adrienne and Brandi are involved in a nasty feud after Brandi shared very personal news involving Adrienne at a party.
In her new blog, Yolanda at first compliments Maloof, writing, "It seems Adrienne is creating a beautiful collection and is focused on her business. I wish her luck and success in all her ventures. That said, I believe she is giving Brandi way too much energy and wish she would just move on and stop blaming others for the increasing misery in her life.
"You know, it's the way Adrienne says 'I hope Brandi is having fun in Vegas, I have a business to run.' Just rubs me the wrong way. . .
Article continues below advertisement
"I don't know Adrienne very well because she never reached out to me, but I have observed her behavior and she comes off quite arrogant. Again she is belittling Brandi's business to empower herself, and I find it very unattractive and unproductive.
"Even though they don't get along, they should not be dismissive of each other's success because at the end of the day we are all working for the same reason -- and that is to help support our children and family."
The Real Housewives of Beverly Hills airs Mondays at 9/8c on Bravo.