To Sue Or Not To Sue? Adrienne Maloof Denies Ever Threatening Brandi Glanville With A Lawsuit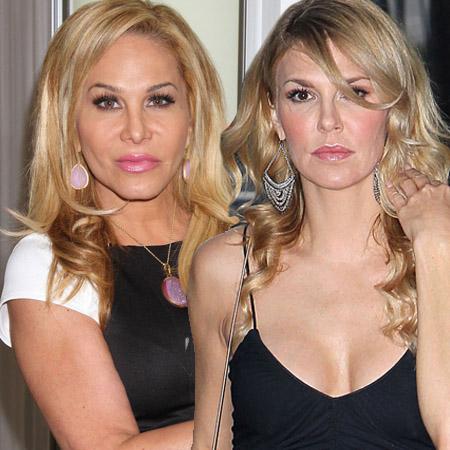 Talk about a mad tea party! The Real Housewives of Beverly Hills attempted to sip tea and eat cake nicely, but when Adrienne Maloof denied ever threatening to sue Brandi Glanville the claws came out, and RadarOnline.com has all the details.
Lisa Vanderpump threw a classy tea party at her posh mansion and invited all the ladies in the hopes that everything could be reconciled through simple communication, but as soon as they went from tea to wine, everything quickly went downhill.
Article continues below advertisement
"Time out, you're not suing me?" Brandi asked.
"No, there was no lawsuit," Adrienne claimed. "You're absolutely wrong."
"Then why am I spending so much money defending this?" Brandi continued.
All the ladies at the party were uncomfortably speechless, not knowing who to believe.
"I think Adrienne's fudging the truth here, absolutely," Lisa said. "A letter was sent, albeit from her lawyer or her. It came from her camp."
Adrienne went on to complain about comments that Brandi made about one of her employees.
"Adrienne and Paul's chef Bernie called several media outlets and said that I'm a bad mother, that I drink in front of my children," Brandi said.
"I told her about this on the phone. I said 'Bernie's doing f**ked up things.' And she's like, 'If that's true we'll fire him.' They never fired him."
Adrienne also claimed that Brandi never apologized to her for the controversial statements she made about her.
"I did apologize," Brandi confessed. "I sent her an email, and I copied all the other girls on it so that I didn't have to hear anyone wonder if I had apologized."
All Adrienne was able to say was, "Shame one you…shame on you for being so calculating."
Brandi finally had enough and blasted Adrienne as she left the tea party.
"Adrienne you are full of f**king sh*t!"
Watch the video on RadarOnline.com
Tune in to Real Housewives of Beverly Hills Mondays at 8/7c on Bravo to watch more of the drama unfold.