Exclusive
Date Night For Katie? Holmes Gets Glam -- Is Ready For Love Again!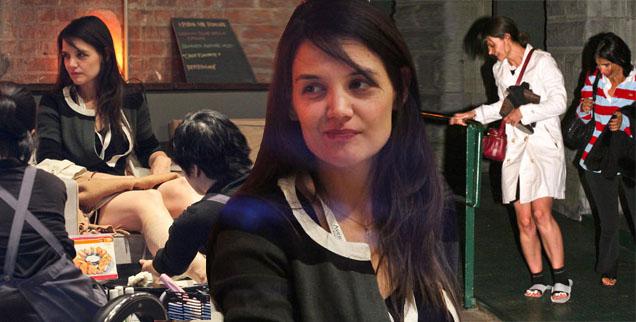 Katie Holmes is ready to enter the dating world and fall in love all over again, RadarOnline.com has exclusively learned.
A family insider has revealed that the Dawson's Creek star has been stepping up her beauty regime, as well as hitting the gym hard, as she opens up to being romanced once more.
Katie, 34, has been enjoying the single life for around 8 months, but she's now game to make the giant leap and meet a new man!
Article continues below advertisement
"She's taken as long as she needed, but Katie now wants to start dating again," the family insider tells RadarOnline.com.
"Katie's been extra vigilant by working out a ton, and not content with just regular classes at the gym, she's also been running on her treadmill to stay in shape.
"It's been a long process for her, because she was so careful not to get wrapped up in someone else so fast after splitting with Tom.
"She wanted to spend as much time with Suri and her family as she could – Katie made them her absolute priority immediately after the divorce.
"But now Katie feels it's time to go on some dates, see what happens, and take it nice and steady.
"Deep down, she is a hopeless romantic who would love to be swept off her feet by a knight in shining armor," the insider reveals.
As RadarOnline.com previously reported, Katie has been cautiously thinking of dipping her toe into the dating pool again – but is continuing to recover from the emotional scars left by the end of her five-year marriage.
Article continues below advertisement
"Katie's in a dilemma, because she wants to date but is concerned where it could lead to from there," a family insider told RadarOnline.com.
"She's worried that if she commits herself fully to another man, she will have to give up the freedom she's enjoying so much at the moment. As a single woman, she has no one controlling her nowadays, telling her what to do or who to see and she absolutely loves it!
"However, at the same time, she also misses being with someone special to share experiences with and she doesn't want to be alone for the rest of her life.
"Katie's got Suri for the time being, and she is her best friend, but she does eventually want to find a man she can be that close with as well.
"She's just a little nervous and cautious about relationships still right now," the insider revealed.