Exclusive
Breaking Up Is Hard To Do! Luckily For Celebs, Rebecca Cardon Is Able To Offer Some Expert Advice!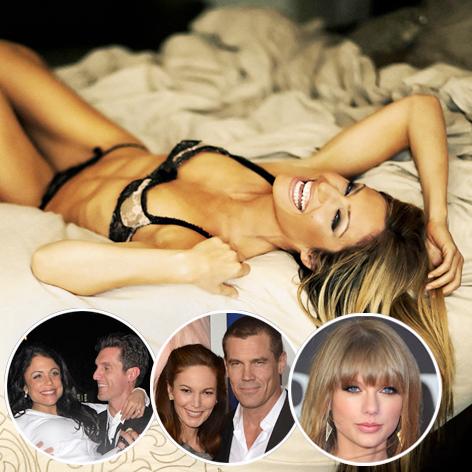 Rebecca Cardon is best known for globe-trotting on The Amazing Race or building up a sexy sweat on Bravo's Work Out, and now the beautiful brunette is sharing her expertise on another sticky subject – splitting up!
The 37-year-old personal trainer has written a go-to guide on how to let go with minimum heartache titled Break-ups Blow: A Guided Workbook to Help You Break Free — drawing on her expertise Cardon dishes on all of Hollywood's most recent tales of heartbreak — and you can read her run-down exclusively on RadarOnline.com.
Article continues below advertisement
Diane Lane & Josh Brolin
"Josh has always been rumored to be a notorious cheater, and I'm sure Diane just grew tired of all the chatter about his unfaithful ways," opines Cardon, who believes that the Secretariat star "most likely truly loved him and was probably addicted to all the toxicity.
"Bravo to Diane for giving herself a chance for a true and respectful relationship with a good man," says the self-help author.
Rob Kardashian & Rita Ora
This romance was doomed from the start, Cardon claims, explaining, "Anytime one half of the partnership wants to keep the relationship a secret, something is definitely awry. He was her dirty little secret, and I don't think he was her only one!"
Ethan Zohn & Jenna Morasca
The Survivor and Amazing Race stars had a sweet, respectable relationship that eventually just ran its course, says Cardon, going on to predict, "I'm sure they will remain best friends and possibly get back together once they realize its not easy to find that connection."
Article continues below advertisement
Ashley Judd & Dario Franchitti
Again, Ashley and Dario's breakup seems healthy and amicable, Rebecca says, adding, "They both seem mature and resolved."
Rupert Sanders & Liberty Ross
After he cheated with Kristen Stewart, Ross had to kick her wayward hubby to the curb, because, Cardon says, "He showed he had no respect for her or their family. He seems selfish by humiliating her publicly. There is no going back from that."
Bethenny Frankel & Jason Hoppy
"There was an imbalance of power in this relationship," Cardon believes, sharing that, in her opinion, "Bethenny has not dealt with deep rooted childhood issues that inevitably caused this marriage's demise in the end. Jason allowed her to rule the roost and his passivity and her aggressive drive did not mix."
Shia LaBeouf & Karolyn Pho
"Shia is young and fickle with a tremendous ego. Enough said," Rebecca bluntly explains.
Taylor Swift & … Everybody!
With too many high profile breakups under her belt to choose just one, Taylor has an immature idea of what love really is, says Cardon, predicting, "As she grows and endures more heartbreaks she will begin to work it out. I think she will make someone very happy once she figures life out a bit more."
For more life, love and workout advice, check out Rebecca's website.