Take That Rupert! (And Kristen) Smokin' Hot Liberty Ross Poses Naked For Magazine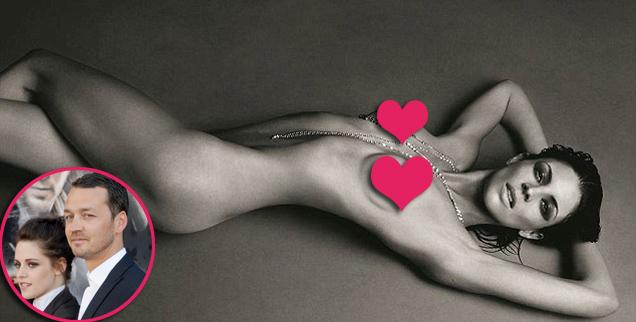 Revenge is a dish best served - NAKED!
Liberty Ross - the estranged wife of Snow White and the Huntsman director Rupert Sanders, who famously cheated with his much-younger leading lady Kristen Stewart – shows off her smokin' hot bod in the new issue of UK's LOVE magazine.
The stunning 34-year-old English model/actress, who's a mother-of-two, is photographed in a seductive black-and-white shot that shows her laying on her back in the nude, her arms behind her head, with her raven hair slicked back.
Article continues below advertisement
As RadarOnline.com previously reported, Ross filed for divorce last Friday from Sanders, 42, after nearly ten years of marriage - months after he was photographed in a passionate embrace with Stewart, 22, who he met while directing her in Snow White and the Huntsman.
In her petition filed in Los Angeles County Superior Court, Ross requested joint custody of her two children with Sanders (Skyla, 8, and Tennyson, 6) and spousal support. Sanders filed his response on the same day, also requesting joint custody.
In wake of the scandal, both Stewart, who was hot and heavy with her Twilight co-star Robert Pattinson at the time, and Sanders released last July public groveling apologies to their other halves.
"I'm deeply sorry for the hurt and embarrassment I've caused to those close to me and everyone this has affected. This momentary indiscretion has jeopardized the most important thing in my life, the person I love and respect the most, Rob. I love him, I love him, I'm so sorry," Stewart said in her statement.
Article continues below advertisement
In Sanders' statement, he said: "I am utterly distraught at the pain I have caused my family... my beautiful wife and heavenly children are all I have in this world.
"I love them with all my heart. I am praying that we can get through this together."
As RadarOnline.com also previously reported, although Sanders and Ross were spotted together in the weeks following the scandal, she was haunted by the images of Rupert's infidelity with Stewart.
For the sake of her own happiness, she had to finally go through with the divorce," a source exclusively told Radar. "No matter how hard she tried, she just couldn't forgive Rupert for cheating on her with Kristen – especially since it was something that caused such public embarrassment.
"The images of Rupert and Kristen together making out were out there for everyone to see. Liberty just couldn't get those pictures out of her head.
Article continues below advertisement
"She truly tried everything, even counseling, because she was desperate to make it work for the sake of Skyla and Tennyson.
"But after months and months of painful soul searching she decided it was in the best interests to end her misery and make a fresh start."
In Ross' only public comments about the affair – an interview at the end of last year – she said: "I believe that we're all on journeys and we are all given lessons at certain times in our lives.
"Sometimes, when things seem really bad, you have to be able to see the good and learn from it and move forward as graciously as possible."
As for Stewart, she eventually reconciled with Pattinson for a while, but the couple is said to be at odds again.
The issue of LOVE magazine, featuring a naked Liberty Ross, goes on sale February 4; it's available to download now on LOVE's iPad app.