Sexy Celebrity Six-Packs! The Best Abs In Hollywood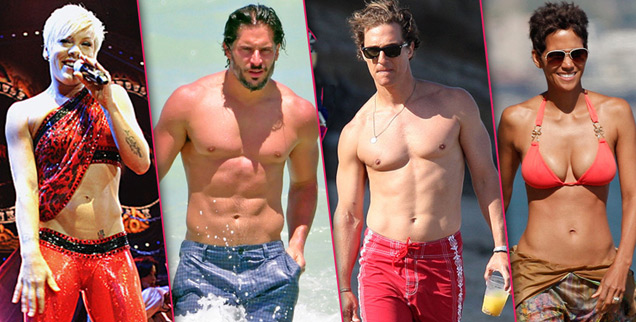 There's no room for flabby abs in Hollywood!
From the red carpet of the hottest events to the most sizzling beaches in the world, celebrities love showing off the results of all those painful crunches and sit-ups at the gym – in the form of their fabulously flat abs and sexy six-packs! RadarOnline.com has scorching hot photos and details about the best abs in Hollywood.
Pink and Gwen Stefani have spent years frolicking in crop-tops on the stage, so it isn't surprising that the sexy singers have the most abfab physiques on the Billboard charts! What's even crazier is that both the scorching hot musicians achieved their most marvelous midsections after giving birth to their respective children!
Article continues below advertisement
George Clooney's galpal Stacy Keibler's bikini body is beyond perfect – complete with totally flat and fit abs, while Heidi Klum, who is turning the big four-oh this year and has given birth to four kids, has a more perfect midsection than most girls in their teens.
And Ryan Gosling and Joe Manganiello may be in demand for their acting skills, but their totally chiseled bodies complete with rock hard abs have also been a major talking point on talk shows!
To see scorching hot photos of all the best abs in Hollywood, click here.