The Best Abs In Town! Stars Who Love Flaunting Their Totally Taut Tummies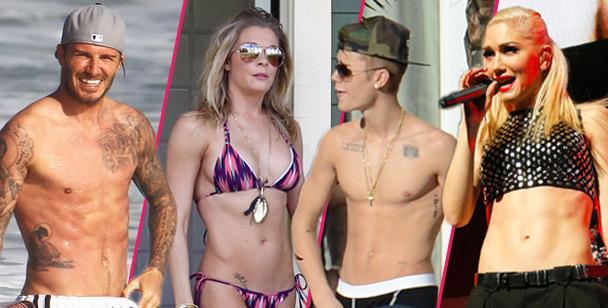 If you've got 'em, flaunt 'em!
When it comes to marvelous midsections, Hollywood's sexiest celebrities make washboard abs look as easy as 1-2-3! From the hottest hunks on the Billboard charts to the sexiest sirens on the stage, RadarOnline.com has photos of 10 super sexy stars flaunting their totally taut tummies.
You've got to keep your body looking totally banging if you plan on wearing scandalous onstage costumes! Miley Cyrus, Jennifer Lopez, Pink, LeAnn Rimes and Gwen Stefani all do more than their fair share of crunches and sit ups to keep their midsections totally fat-free and fabulous, and aren't bashful about showing off the results of all their hard work.
Article continues below advertisement
Who says you can't have a perfect body after having a baby? Sexy supermodel Miranda Kerr was back in her bikini just months after giving birth to baby Flynn, and still has an impossibly perfect midsection.
Justin Bieber knows how to drive all his fans crazy – but taking off his shirt and flashing his washboard abs!
When he's not running around the soccer field with his shirt off, Victoria's smokin' hot hubby, David Beckham, is showing off his hot bod on the beach.