PHOTOS: David Beckham - Shirtless & Sexy In Philly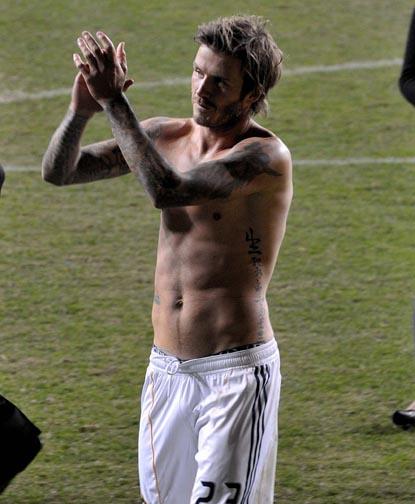 David Beckham showed up his ab-fab body in Philadelphia, and RadarOnline.com has the sexy shots.
Becks stripped off his shirt after his team, the Los Angeles Galaxy, defeated the Union, 1-0, in Thursday's Major League Soccer match at sold-out PPL Park in Philadelphia.
Becks had special reason to smile - he scored the lone goal to secure the win.
Beckham was introduced to a Phily tradition at the game -- every time he touched the ball, he was greeted by boos and the soccer stud loved it.
Article continues below advertisement
"Without a doubt, it is the way it should be," Beckham said. "That is the atmosphere in Europe when you go to an away game, and I really enjoyed it."
This was only Beckham's fifth game since he suffered a left Achilles injury on March 14; it was also his first visit to the Philadelphia area.
He also enjoyed the previous evening. Beckham attended the Phillies game in two parts. He saw the first few innings, left for a team dinner, and returned for the final few innings to see Roy Halladay finish off his no-hitter.
"To be part of that historical night was really special," Beckham said.