Matthew McConaughey 'Mad' And 'Kind Of Sad' Over Pal Lance Armstrong's Doping Confession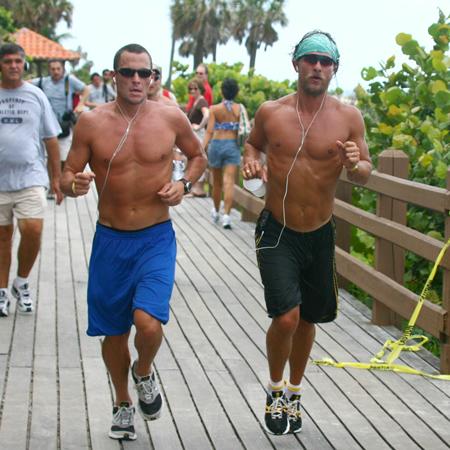 Matthew McConaughey probably won't be sporting a Livestrong bracelet anytime soon, but he's made peace with his friend, and fellow Texan, Lance Armstrong.
The A-lister told MTV News he was among those annoyed with Armstrong in wake of his doping confession last week, having been a confidante who trained, vacationed with and did charity work with the disgraced superstar.
"My first reaction was I was p**sed off," the actor told MTV News. "I was mad. I then got kind of sad for him. First off, I had a part of me that took it kind of personally, which I think a lot of people have.
Article continues below advertisement
"For him, it was impersonal because he was living a lie. It was a whole unanimous facade he had to carry around."
Matthew said his anger cooled toward the now-former Tour de France champ when he realized that even knowing about Armstrong's secret helper would have been a weight too heavy to carry.
"What was he supposed to do? Call me to the side and go, 'Hey man, I did it but don't tell anybody.' Then I would have really had a reason to be p**sed off at him, going, 'You want me to walk around holding this?'" the Magic Mike hunk said.
The Lincoln Lawyer star said he's happy for Armstrong, not having to forever carry the weight of Atlas.
"I've put myself out of the way, and I am happy for this guy, who has now chosen to re-enter this new chapter of his life a truly free man," Matthew said. "And the weight he had on his shoulders, without the boogieman under the bed, the skeleton in the closet that he's carried for 14 years.
"Fourteen years he lied and carried the lie with him."