'Sniveling, Lying, Cheating Little Wretch.' Celebs React To Lance Armstrong Interview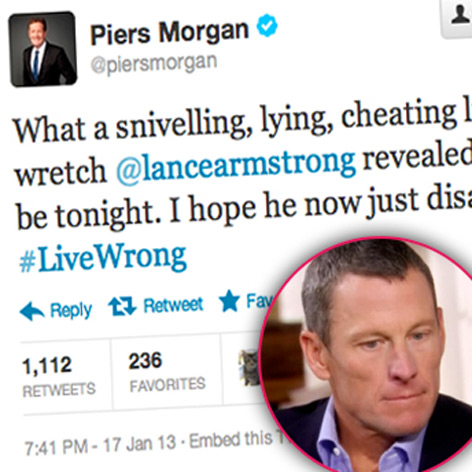 Celebrities took to their Twitter pages with a vengeance last night after Lance Armstrong's televised admission that he took performance-enhancing drugs to win the Tour De France seven times.
And while some of the comments were funny and sarcastic, few of them were kind.
Steve Martin managed to poke fun at the grounded Boeing 787 airplanes, duped Notre Dame linebacker Manti Te'o and the shamed cyclist all at the same time!
Article continues below advertisement
The comedian quipped: "Bad day: Spent it on a 787 Dreamliner with Lance Armstrong and Manti Te'o's ex-girlfriend."
Fellow funnyman Seth Meyers was more scathing, writing: "Say what you will, he's still the Lance Armstrong of d**kheads."
Parks and Recreation actress Rashida Jones tweeted: "Great day for liars! They are dominating the news today. #CongratsUSA."
The Voice host Carson Daly said: "I'm embarrassed that I was such a fan for so long."
Meanwhile CNN host Piers Morgan said: "The fact @lancearmstrong admits he had to look up what the word 'cheat' means says all you need to know about the man. #LiveWrong."
In a scathing attack he also wrote: "What a sniveling, lying, cheating little wretch @lancearmstrong revealed himself to be tonight. I hope he now just disappears."
At least one celeb came out in support of the Livestrong founder though. Jack Osbourne wrote: "Honestly I don't care that Lance doped. He gave people hope and that's more important than anything.