Rihanna Gets Cheeky In Series Of Racy New Tweets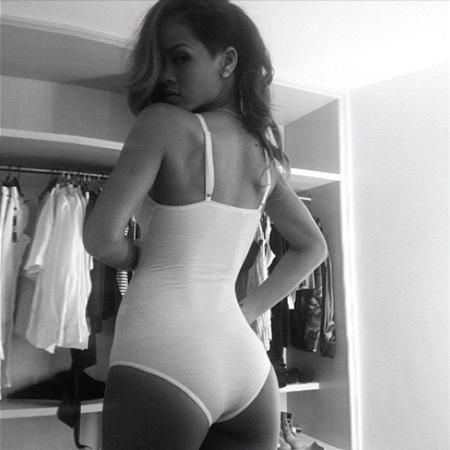 Rihanna might be the least shy woman in show biz.
The stunning singer, in part known for her endless stream of revealing insights and images, continued with her exhibitionist ways in Los Angeles Sunday, tweeting a set of racy Instagram shots she took behind the scenes of a photo shoot for an unnamed magazine.
"Got my hurr pinned up, chiefin, chillin' behind the scenes of a new mag cover shoot! Stay tuned #2013," the Umbrella singer, 24, wrote on Sunday. "Lights. Camera. Action #alliseeizsignz."
Article continues below advertisement
The We Found Love singer, who has nearly 28 million Twitter followers, showed off her shapely form in a white bodysuit, revealing her picture-perfect tush.
In another self-pic, the gorgeous pop star wrote "Buckle up b****s!" in a wacky shot with her tongue out to the camera.
Elsewhere, the singer and sometimes-boyfriend Chris Brown worked on another duet last week.
She's set to take the stage at next month's 55th annual Grammy Awards, which airs February 10 at 8/7c on CBS.