Rihanna Gets Liquored Up Before Facebook Interview: 'I'm Too Drunk For This'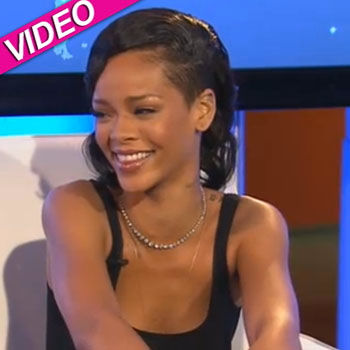 Rihanna cursed her way through a Facebook Live! interview on Thursday, jokingly claimed she was too wasted to answer any "deep" questions about her music and RadarOnline.com has the clip.
Bravo's Andy Cohen was interviewing the badass Umbrella singer for Facebook's streaming series and naturally one of his questions was about the never-ending Chris Brown relationship rumors.
When asked if they were in fact officially back together, RiRi briefly replied, "No."
Article continues below advertisement
However, she did later admit that she thought that ex-boyfriend Brown was still "pretty dope."
The 24-year-old pop queen also opened up about her latest hit Diamonds…and perhaps thanks to a few cheeky drinks beforehand was unusually candid.
"That's a real powerful song to listen to. It sucks you in, even if you're in the club, it f**ks with your head," she said.
She then laughed, saying, "This is deep I know. I'm too drunk for this sh*t."
Rihanna was asked to appear on Facebook Live! after being crowned the most popular person on the site …with a mind-boggling 62 million 'likes.'
Cohen also pressed Rihanna about the track Nobodies Business on her upcoming album Unapologetic – where she duets with Brown.
"Nobodies Business is basically the way I look at everything regarding my personal life," she said.
"Even though you have to witness it, and it's being documented at every second."
Article continues below advertisement
A giggly and somewhat tipsy Rihanna finished with where she wants to be in 30 years time.
"I wanna be skinny. I wanna be fierce. I hope my tits are still sitting up," Rihanna said.
"That's what I really want at 54. Nothing else will matter at that point."
Watch live streaming video from facebookguests at livestream.com
RELATED STORIES:
Rihanna Gets Cheeky At Victoria's Secret Fashion Show
Celebrities React To President Barack Obama's Win Over Mitt Romney