Exclusive
Mother-Daughter Porn Duo The Sexxxtons Say Their X-Rated Relationship 'Is Not Incestuous'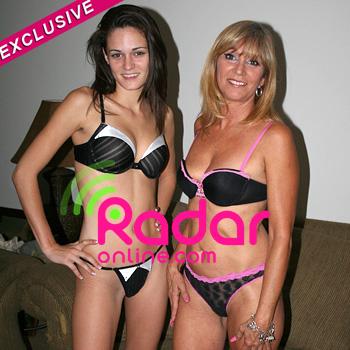 By Debbie Emery - Radar Reporter
It's tough to shock people in the porn industry, but mother-daughter duo Jessica and Monica have managed to raise eyebrows among even veteran X-rated professionals.
Using the stage name The Sexxxtons, the pair has become a huge hit since they joined forces a year ago, and are now revealing intimate details of their working relationship in the sex industry on an exclusive interview with RadarOnline.com.
Article continues below advertisement
"I was in the industry before and so was Monica; we were shooting porn independently," Jessica, 56, explained to Radar.
"We then had a producer approach us, and he employed a very high profile attorney out of Orlando to direct us about what legally we can do and what we can't do. We can't really do anything together and we wouldn't want to because we are really mom and daughter," she revealed.
"It's worked out pretty good so far!" laughed the mother-of-two from Tampa, Florida. "I have no regrets, we have a wonderful time together and have a great respectful relationship. There's nothing sexual about it, it is a mother-daughter relationship.
"Everyone thinks that is a wonderful idea because we're the first ones who have done this," she explained.
While some critics are disgusted that a mother would have sex onscreen with her child, Jessica claims their accusations of inappropriateness are ridiculous.
"I think that most people are afraid to do it because of the incest implications but we're trying to make everyone understand that there is no incest," she told Radar.
Article continues below advertisement
"We're a mother daughter team, we film scenes together with one or two male partners but we don't ever interact with each other, only with the men – that's all we're interested in.
"Everyone is entitled to their opinion, there's a lot of strange relationships out there and this is just one that's different so that's why people are interested."
Monica, now 22 and who got into the adult industry when she was 19, told Radar that filming with her mom is just another day in the office, and she couldn't be happier with their current career choice.
"We've had a blast at it, we're like movie stars. We go on set and everyone treats us real special and they do our hair and makeup and tell us how beautiful we are. It's a great ego booster!" she gushed.
The women have plenty of onscreen action with gorgeous guys but both say there isn't anyone special in their lives at the moment.
"We have boyfriends, but they are just male partners who come visit us, and not what would considered conventional boyfriends. It would be real hard to date when you're in this business because most men can't handle it," Monica explained.