It's A Family Affair! Mother And Daughter Become 'Filthy Rich' Filming Porn…Together!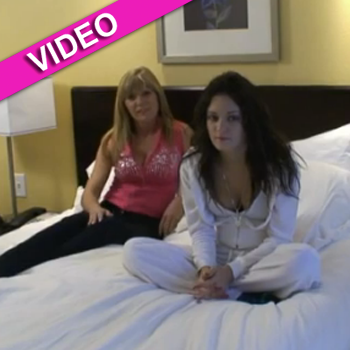 A mother and daughter have found a unique way to make money – by filming hardcore porn scenes together and have even had sex with the same person at the same time!
Jessica, 56, and Monica, 22, use the stage name "The Sexxxtons" and refuse to give out their real surnames. But The Huffington Post has confirmed the pair actually is mother and daughter by reviewing their driver's licenses, their private Facebook pages and by looking at private family photos that span across 20 years.
Article continues below advertisement
The Tampa, Florida mother and daughter tag team say they enjoy working together, especially filming threesomes. Monica says: "I enjoy the sex and I enjoy being with my mom.
"During the scenes I think about how we're going to be filthy rich."
But the women insist that their on-camera activities are not incestuous and that they take great care not to have any inappropriate contact with each other when they both have sex with the same person.
"We don't have a problem doing two-on-one," Jessica says about filming threesomes with her daughter. "We will have sex with one man, but not interact with each other."
Her daughter adds: "It's not easy to do. Our lips never touch and that can be a problem when filming."
Jessica and Monica­, who have their own X-rated website, launched their porn careers three years ago when they were about to get evicted from their home.
Article continues below advertisement
Monica, who worked as a dancer and encouraged her mom to get into porn, says: "I've always been an exhibitionist and sex just oozed out of me.
"It was my idea. I dropped out of school in ninth grade and figured this was a good way to earn money."
Jessica agrees, saying: "The money was part of the reason, but so was fun, and having sex with hot guys."
But Monica agrees that, along with bestiality, there is one other boundary she will not cross: Filming scenes with her younger brother who is also involved in the family business.
She says: "He's a virgin and I don't want his first sex experience to be with someone who is just doing it for money and isn't into him."
Watch the video on the Huffington Post here.
RELATED STORIES:
Kanye West's Camp Still Negotiating Over Sex Tape
Top 3 Selling Celebrity Sex Tapes: Kim Kardashian, Kendra Wilkinson & Chyna!
Octo-Mom Thought Sex Tape Would Turn Her Into A Kardashian & Make Her Rich, Says Pal
Former Porn Star Jenna Jameson Has Been Poked With Botox Needles Too Many Times, Says Plastic Surgeon