Chad 'Ochocinco' Johnson Says Sex Tape Scandal Isn't Going To Stop A Reconciliation With Evelyn Lozada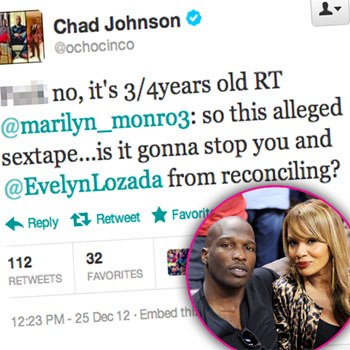 Article continues below advertisement
As RadarOnline.com previously reported, the reality TV couple started divorce proceedings after just 41 days of marriage following a violent altercation between the newlyweds on August 11.
After keeping her distance both in real life and social media since Chad assaulted her when she found a receipt for condoms and he was arrested for domestic abuse, the Basketball Wives star has been chatting with her ex-husband online and the former couple even tweeted about mistletoe.
When asked by one follower on Christmas Day if the sex tape was going to stop him and Evelyn, 37, from reconciling, Johnson replied bluntly: "F**k no, it's 3/4years old," while Lozada tweeted, "LMFAO," at Internet reports of the raunchy video.
Johnson is no stranger to being in the eye of a storm, and even his Twitter profile confesses that his future could hold more scandals to come. "Lord forgive me for I have sinned and i'm probably gonna sin again, I refuse to pretend i'm gonna be perfect through quotes and scriptures for I'm only human," he reveals.
Article continues below advertisement
As for his latest escapades, Worldstarhiphop.com received the short clip and some photos of the sex tape, which the former Miami Dolphins player claims was hacked from his cell phone. The description accompanying the video says: "The photo is really a video that was taken as a screen-shot during Chad's alleged sexcapades with a full audience in the background."
Johnson has since reportedly requested that his lawyer file a cease-and-desist order to have the footage taken down and wants the FBI to find the source of the sex tape.