LeAnn Rimes On Rehab, Twitter Wars, Babies & The 'Necessary Evil' In Her Life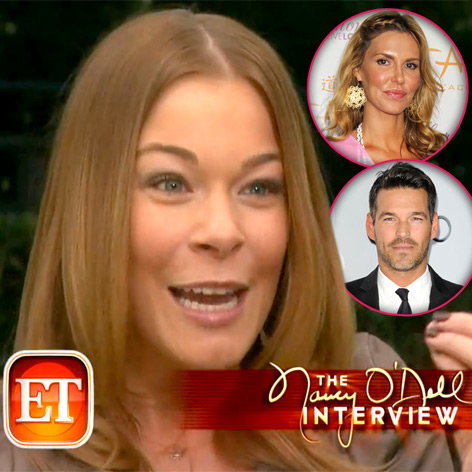 LeAnn Rimes is opening up in a wide-ranging interview about her stint in a rehab facility last summer to deal with stress and anxiety, feeling "a huge amount of guilt" about cheating with Eddie Cibrian, and if babies are in her future.
As RadarOnline.com previously reported, Rimes entered treatment in August after a series of hostile exchanges with Twitter users critical of how she and husband Eddie Cibrian hooked up during their former marriages. (The singer has sued two women for invasion of privacy in connection with the conflict.)
Article continues below advertisement
Speaking with Entertainment Tonight's Nancy O'Dell on Thursday's show, the How Do I Live singer called the circumstances behind her stay at the facility "hard to explain," making clear she's "not asking for anyone's sympathy" in the matter.
"It's just as simple and as complicated as I need to go learn how to deal with myself, with the world, I mean, because everyone's always looking in, and I needed to figure out how to deal with it."
Asked about her Tete-a-tete with another user that spurred her to take legal action, Rimes said, "It's absolutely insane -- online bullying has to stop," noting that anyone can go online with an alias and "do anything to anyone."
Rimes called having social media "a necessary evil for what I do," and said she got caught up when she "felt the need to respond to every accusation made against me."
The 30-year-old singer emphasized she's not addicted "to anything , at all."
Article continues below advertisement
In the interview, Rimes said that despite "the huge amount of guilt" both she and Cibrian felt at the outset, the two share a "weird gravitational pull" toward one another not easily absorbed through the public's viewing pane of social media, entertainment magazines and websites.
"People on the outside looking in think, 'How did you do that?'" Rimes groused, upset to be misunderstood. "I guess, thank God, I have music.
When asked if she and Eddie are planning to have kids in the near future, LeAnn said, "I think so ... that's kind of a talk we've had for a while now, but not right now, no."
She also joked that there's no lacking in her sex life with Eddie, as she enjoys a roll in the hay with the hunky TV star in the "afternoon or anytime of the day ... it's all good!"
RELATED STORIES:
LeAnn Rimes Made Her Own 'Angelfish' T-Shirt To Mock Brandi Glanville Nickname