LeAnn Rimes Slams Drunk Accusations As 'Gossip & Lies,' Insists 'I Have Never Been Anything But Professional!'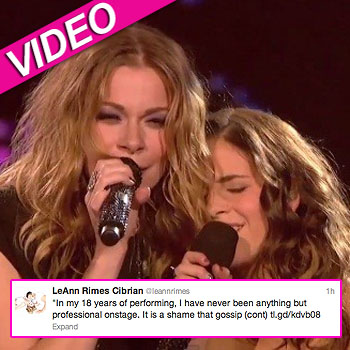 Article continues below advertisement
"In my 18 years of performing, I have never been anything but professional onstage," LeAnn tweeted on Thursday.
"It is a shame that gossip and lies are overshadowing the performance of Carly, a very talented young girl.
"And while I have not given any media outlet a quote, if you want one, here it is 'It was an amazing opportunity to share this experience with Carly and I know I'll be watching for her to win tonight.'"
As RadarOnline.com previously reported, Rimes' odd behavior during her How Do I Live duet with the teen prompted many media outlets to tear her performance apart while X Factor fans flooded social media with speculation the singer had hit the bottle before hitting the stage!
The Huffington Post labeled Rimes' performance as "uneven and uncomfortable" and pointed out that during the song, "Rimes even gripped onto Sonenclar during the performance. Her voice didn't seem to have its usual strength, leading some fans to speculate online that she might have been drinking. When it ended, she declared, 'Oh my god, she's such an amazing talent I want to wrap her up and just hold her.' 'You're doin' it!' Mario Lopez replied."
Article continues below advertisement
The Mail Online also reported on LeAnn's bizarre performance and her apparent attempt to out-sing and out-stage the young competitor.
PHOTO: LeAnn Rimes & Brandi Glanville -- BFFs?
Meanwhile, The Hollywood Reporter claimed that Rimes wasn't feeling well during her performance, which may explain her odd behavior, but Hollywood Life went a step further and declared Rimes "one big, hot mess."
youtube