Days After Revealing Abuse, Life's A Beach For Julianne Hough With Ryan Seacrest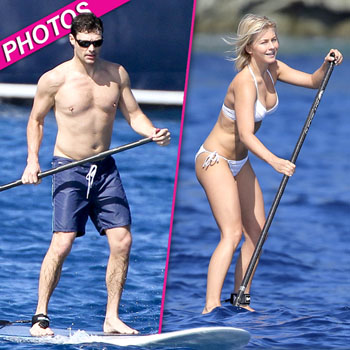 Article continues below advertisement
"I've been through certain things that have sucked the life out of me... and just the light about me was gone... and I was just a dark person," Julianne told Entertainment Tonight.
Julianne, 24, donned a tiny bikini and got some exercise on St. Barths with Ryan and in these photos she looks great paddle boarding, proving that even though she's not on Dancing with the Stars anymore she still has a killer figure.
She explained the trauma she suffered before being on the hit reality show, and said she kept it a secret for years.
"I was 10 years old looking like I was 28, being a very sensual dancer. I was a tormented little kid who had to put on this sexy façade because that was my job and my life. But my heart was the same, and I was this innocent little girl. I wanted so much love," she said in the February 2013 issue of Cosmopolitan.
Julianne said that she finally found the strength to end the abuse.
"So I had to leave that situation and kind of come into my own again and I did."