Julianne Hough Shows Off Her Post-Thanksgiving Bod In Mexico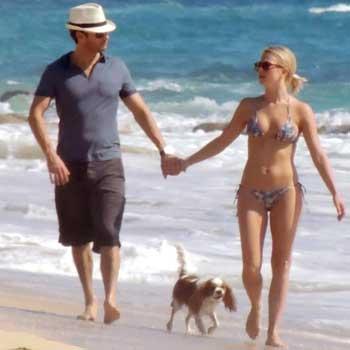 If Julianne Hough put on any weight over the Thanksgiving holiday it doesn't show. The 24-year-old has been snapped on the beach in Los Cabos, Mexico this weekend wearing nothing but a bikini, a pair of shades and a smile.
On Saturday, Hough and her beau Ryan Seacrest enjoyed a stroll in the sand with their dog Lexi.
Despite looking toned and trim the Rock of Ages star recently told InStyle that she has put on a significant amount of weight in the two years she has been dating the American Idol host. Hough said: "I'm 20 pounds heavier than I was when we started dating.
Article continues below advertisement
"And now we always have great wine and I can tell the difference. So I told him: 'You ruined my life because I can't go to a friend's house and drink cheap wine anymore'."
Putting on weight seemed to be the furthest thing from her mind over the holiday though. On Thanksgiving Day Hough tweeted a series of photos of food and treats she planned to eat including deep fried turkey and an array of desserts.
MORE ON:
Sexiest Bodies Hollywood