Julianne Hough Reveals She Was Abused 'Mentally, Physically, Everything' As A Child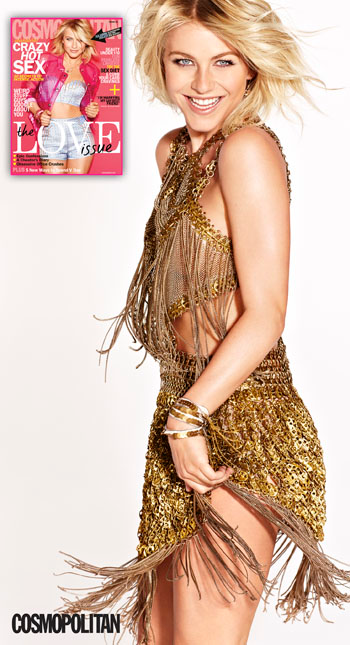 Article continues below advertisement
Hough, who moved from Utah to England when she was only 10-years-old to pursue a career as a dancer, admits she was sexualized too young.
"I was 10 years old looking like I was 28, being a very sensual dancer. I was a tormented little kid who had to put on this sexy façade because that was my job and my life. But my heart was the same, and I was this innocent little girl. I wanted so much love."
"While I was in London, I was abused, mentally, physically, everything," the 24-year-old admits in the February 2013 issue of Cosmopolitan, declining to go into details about by who or in what way she was abused. "I'm a very forgiving person, and I don't want to hurt anybody. What's past is past."
Hough, who has been dating Ryan Seacrest for the past two years, reveals that the abuse got worse, "when I started hitting puberty, when I started becoming a woman and stopped being a little girl" and that her abuser threatened her.
"I was told if I ever went back to the United States, three things were going to happen. One: I was going to amount to nothing. Two: I was going to work at Whataburger. And three: I was going to end up a slut. So it was like, I can't go back, I have to be this person."
Article continues below advertisement
"I'd rather take the pressure on myself," she says about why she didn't come clean to her parents. "To this day, I don't want to be a burden. I didn't talk unless I was spoken to. I would look over to see if it was okay if I answered. I was perfect – perfect to a fault."
At the age of 15, Hough went to a concert and saw one of her idols perform a set of songs about being free and being yourself, which inspired her and gave her the courage to leave.
"I was like, f**k that. I know who I am, and I don't want to be this person who I am becoming. I left two days later and never went back."
Hough explains that her latest role inspired her to gopublic with her painful past.
"I don't want pity. To me it's more about being that voice for people who don't necessarily have a voice."
To read more on Julianne Hough, pick up the February 2013 issue of Cosmopolitan.