Exclusive
David & Victoria Beckham's Boys Homesick For Los Angeles, They Miss The TV, Fast Food & Their Pals!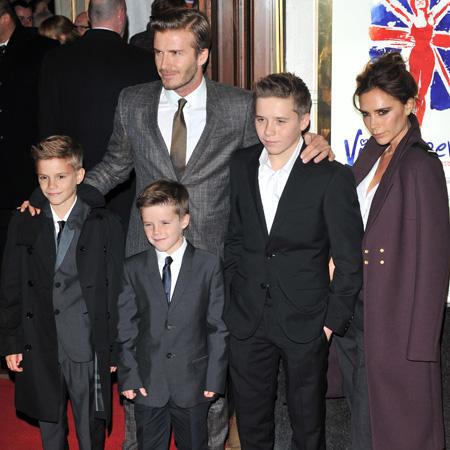 While David and Victoria Beckham hunker down in England as they plan their next move, RadarOnline.com has exclusively learned that their kids are missing L.A.!
The Beckham boys, currently living in freezing cold, snowy London, prefer the warm California weather and miss their school friends after finding a return to England a culture shock.
But, Brooklyn, Romeo and Cruz, along with baby sister Harper, will have to brave the cold for now until their dad finds himself a new soccer team to play for!
Article continues below advertisement
"The boys are struggling with adapting to life back in the UK," a source close to the Beckhams tells RadarOnline.com. "They keep saying it's so cold back home, and they miss the L.A. weather, as well as their favorite TV shows, their friends and even the fast food!
"It's even worse when they Skype their pals in the States who tell them what they are missing out on.
"However, at the moment they have no choice but to grin and bear it until David knows where he's going to play soccer next.
"Offers have ranged from all over the world, so the kids are wary they could end up anywhere.
"Really, they would love to be back in America, although David wants one last hurrah somewhere else for a new challenge," the source says.
As RadarOnline.com previously reported, David, 37, and Victoria, 38, abruptly yanked their three sons out of their Los Angeles school in the middle of the academic year because "Posh Spice" wanted to concentrate on her fashion line.
Article continues below advertisement
"Victoria couldn't handle managing her lucrative fashion line from Los Angeles anymore because it's based in London," a source previously told Radar.
"Victoria was often up in the middle of the night having conference calls with her staff across the pond, and it just wore her down. She felt that she had sacrificed a lot for David by moving to California so he could pursue his soccer career with the Los Angeles Galaxy."
Romeo, 10, and Cruz, 7, had been attending The Curtis School since their parents moved to Los Angeles five years ago. Their eldest, Brooklyn, 13, left Curtis two years ago and was enrolled at The Willows Community School in Culver City.
"On the last day before school broke for Christmas vacation, the headmaster of the school announced at an assembly for the entire student body that the Beckhams were moving back to London. Both Victoria and David were at the flag ceremony assembly and were very touched at the outpouring of love from the school," the source revealed.