Harper Beckham Never Wears The Same Outfit Twice, Has $8,000 Wardrobe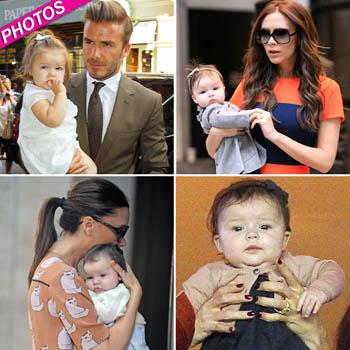 Talk about being a baby fashionista! Little Harper Beckham has never been photographed in the same outfit twice, sometimes even upstaging her designer mom Victoria Beckham with her fashion ensembles.
The youngest of Victoria and David Beckham's four children has a wardrobe estimated to be worth a stunning $8,000, according to The Daily Mail.
That's four times more than the amount an average American adult woman spends on clothes.
Article continues below advertisement
Some examples from Harper's fabulous closet: dresses by Mare Chantal ($156), Little Marc Jacobs ($285) and Stella McCartney Misty ($136), tights by Chloe ($48), and a sweater by Bonpoint ($160).
RELATED STORIES:
Katherine Jenkins Slams David Beckham Affair Rumors As 'Very Hurtful' And 'Untrue'
Spice Girls Were Going To Perform Without Victoria Beckham At Olympic Closing Ceremony
Victoria Beckham Explains Sour Face, 'Fashion Stole My Smile'