Victoria And Harper Beckham, Look-Alike Pouts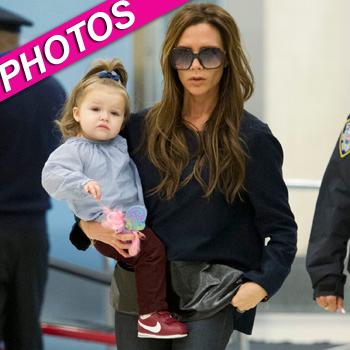 Victoria Beckham carried her adorable daughter Harper through JFK Airport Saturday, and David Beckham's two favorite girls were wearing look-alike pouts!
With a ribbon in her hair and wearing a sweet blue smock-style top, Harper gave on-lookers a somewhat stern stare while Mom took her through the international terminal on their way back from Paris.
We also couldn't help but notice little Harper's shoes.The 15-month-old fashionista was sporting Nikes, with very large Swoosh symbols on the side.
Article continues below advertisement
Daddy David wouldn't be caught dead in those. He's signed with Adidas, which markets a whole line of DB trainers.
RELATED STORIES:
Katherine Jenkins Slams David Beckham Affair Rumors As 'Very Hurtful' And 'Untrue'
Spice Girls Were Going To Perform Without Victoria Beckham At Olympic Closing Ceremony
Victoria Beckham Explains Sour Face, 'Fashion Stole My Smile'