Exclusive
Victoria's Career Comes First! Beckhams Pulled Kids Out Of US School To Focus On Her Fashion Line!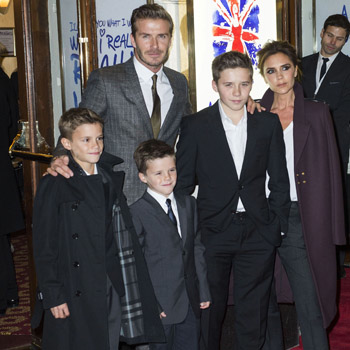 Victoria and David Beckham abruptly yanked their three sons out of school in Los Angeles in the middle of the school year and moved back to London because she wanted to focus more on her fashion line RadarOnline.com is exclusively reporting.
"Victoria couldn't handle managing her lucrative fashion line from Los Angeles anymore because it's based in London," a source close to the situation said.
"Victoria was often up in the middle of the night having conference calls with her staff across the pond, and it just wore her down. She felt that she had sacrificed a lot for David by moving to California so he could pursue his soccer career with the Los Angeles Galaxy.
Article continues below advertisement
Romeo, 10, and Cruz, 7, had been attending The Curtis School since their parents moved to Los Angeles five years ago. The oldest of the Beckham brood, Brooklyn, 13, left Curtis two years ago and enrolled at The Willows Community School in Culver City.
"On the last day before school broke for Christmas vacation, the headmaster of the school announced at an assembly for the entire student body that the Beckhams were moving back to London. Both Victoria and David were at the flag ceremony assembly, and were very touched at the outpouring of love from the school," a source previously told us.
David's three sons recently cheered him on as he ended his American soccer career as he helped the L.A. Galaxy win its second consecutive MLS cup.
They proudly wore t-shirts with DADDY emblazoned on the back and David's mom Sandra was so overcome with emotion that she started to cry. Noticeably absents from Becks last game in L.A. was the former Spice Girl, and their toddler daughter, Harper.
The soccer stud is "actively looking for career opportunities as well. David might play for a team in China, or become a a part owner of a professional team. David's main role right now is supporting Victoria in getting the family settled back into life in London. They are happy to be back, but the boys have been complaining that they miss their friends in Los Angeles," the insider said.