Sons Cheer David Beckham At His Last American Soccer Game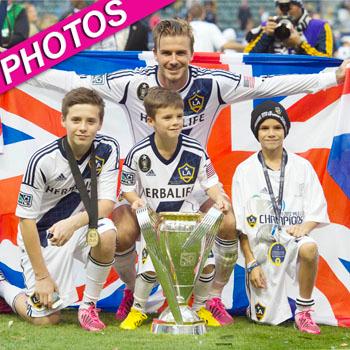 David Beckham's three sons cheered him on as he ended his American soccer career on Saturday, helping the L.A. Galaxy win its second consecutive MLS cup.
It was an emotional day for the international soccer star, who played his last game as a member of the Galaxy, and his boys Brooklyn, Romeo, and Cruz were at L.A.'s Home Depot Center to share the cheers and tears.
They proudly wore t-shirts with DADDY emblazoned on the back and David's mom Sandra was so overcome with emotion that she started to cry.
Article continues below advertisement
Only David's wife, former Spice Girl Victoria Beckham and their youngest, 17-month-old daughter Harper, weren't spotted at the big game.
The Galaxy rallied from a halftime deficit to beat the Houston Dynamo, 3-1. And after the game, David walked triumphantly off the field wearing an American flag on his shoulders.
The iconic athlete, who brought new attention to soccer in the U.S., spent six seasons with the Galaxy before handing in his cleats. "I just hope I've brought a bit of interest to the game" in America, he told reporters.