Exclusive
Hot, And Not, Headed! Celebrity Stylist Sean James Picks Out The Best And Worst Hair In Hollywood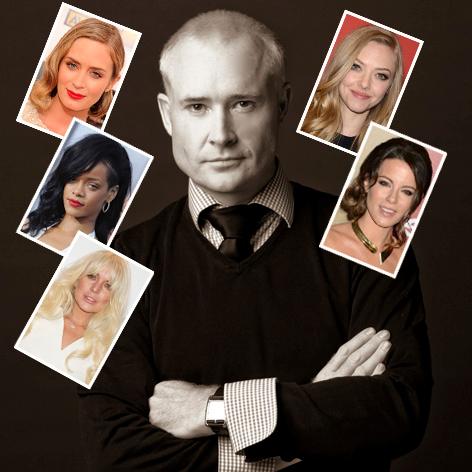 Mirror, mirror, in the salon, who has the best and worst hair in Hollywood of them all?
Down Under import Sean James has been cutting, styling and coloring Hollywood's A-list for decades! The Fred Segal Salon and OPUS Beauty stylist, who has tousled the tresses of pretty much everyone imaginable, from top movie stars to real life princesses, took a few moments out of his busy schedule to talk exclusively to RadarOnline.com about Hollywood's biggest hair winners and sinners!
Article continues below advertisement
Sean James' picks for Best Hair in Hollywood:
I am loving Troian Bellisario from the ABC Family show Pretty Little Liars. She is definitely one to watch! I recently styled her natural and gorgeous rich chocolate brown locks, which are the perfect length to frame her face. I used Phyto Volume for a little lift at the roots, Phyto 7 on the ends and blow-dried that in. I finished off the look using a Hot Tools curling iron, curling away from her face.
When it comes to short hair, Jamie Lee Curtis, my longtime client and friend, has the best crop in town! Her shiny silver pixie, which is timeless, chic and edgy to perfection, is inspired by my late friend, Vidal Sassoon, and achieved using some of the tricks he taught me. Jamie comes into Fred Segal Salon every three weeks to visit me and get her hair trimmed up and styled.
I absolutely love Dita Von Teese's tresses! I did her hair a few years ago in Paris and SHE taught ME a few tricks. I can't tell you what he uses, but my friend John Blaine really rocks her hair out for her and she never leaves the house without her hair done to perfection. Blain and her makeup artist Gregory Arlt manage to keep Dita looking the perfect Old Hollywood glam.
Article continues below advertisement
I can't get enough of Amanda Seyfried and her long, beautiful ash blonde 1960's inspired Woodstock chic look. Her hair is totally age appropriate and keeps her looking as much as a supermodel as an actress. She wears it well.
I'm not interested in Rihanna's personal life and wish she would just sing, but I love the adventurous changes she makes with her hair. She has done wonders for African American women, especially with their everyday street culture. From her Skrillex shaved 1980's inspired side to the quick change red weaves and then the Rosie the Riveter rolled under bangs, she always manages to make it work and inspires women around the world.
Sean James' picks for Worst Hair in Hollywood:
Well, I hate to say it, but Lindsay Lohan has the worst hair! Her color is never consistent, her extensions are too long and look fried, her hair is not cut very well, and she always manages to look like the BEFORE shot. She should just reclaim being the classic redhead that got her attention in the first place and have acceptance of herself. When I did her hair for Freaky Friday, it was beautiful and healthy.
Article continues below advertisement
She may have improved on The X Factor, but Britney Spears still tends to not make the best choices with her extensions, or has them installed by someone who doesn't understand hair at all. They never seem to be blended very well into her natural hair, and then there is always the issue that too much time and effort is being spent on the length and not keeping up on her root situation.
I have a love/hate relationship with Kelly Osbourne's hair. It's a hit or miss, mostly a miss but every now and then a hit. I'm so sick of the grey. Lady Gaga did it better. Sorry, Kelly. I love you, though.
Emily Blunt's hair is usually so beautiful but at the Critics Choice Awards this year it was just a terrible execution of finger waves and was pinned so unflatteringly to her side. It stood out as one of the worst looks of the night. Let Downton Abbey stay on the television, not the red carpet!
Kate Beckinsale's hair has just not been looking that great lately. Usually a sexy bombshell, she has been wearing it up lately in strange updos and overdoing it. Wear it down, Kate! You are so much sexier that way.