PHOTOS: Britney Spears Has A Really Bad Hair Day!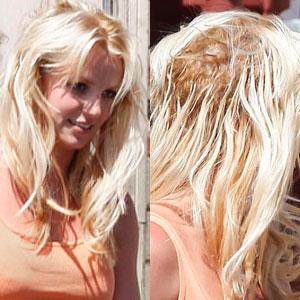 Oops, Britney Spears did it yet again! The style-challenged singer went shopping in Sherman Oaks, California on Tuesday looking as if she'd just crawled out from under a bush.
Brit's extreme bed head revealed matted hair extensions surrounding a bizarre dark patch topped off with spiky dreads of her natural hair.
"Her hair is way over-processed and is literally snapping off at the ends, then they added extensions to the root when the hair is already breaking off," hair extension expert Susan Lipson of On Set Salon www.onsetsalon.com in Santa Monica, who has not worked with Spears, told RadarOnline.com.
Article continues below advertisement
Still growing her hair back following her bizarre head-shaving stunt three-and-a-half years ago, Britney's natural locks are simply too short to support the weight of such long extensions, explains Lipson. "She should use shorter ones in smaller pieces that match her hair."
While her stylists can be criticized for her hair trauma, they can't be blamed for what the pop star's actions after she leaves the salon.
"You can tell that she just got out of bed and didn't brush it. She needs to start taking care of her hair properly," Lipson said.
Instead of styling her long locks, the singer often ties it up at the top of her head into a messy bun, causing it to tangle and dreadlock into a massive knot.
The 'Circus' singer has a track record of spatting with her hair stylists. At the MTV Video Music Awards in September 2007, her erratic behavior upset celebrity hair guru Ken Paves so much that he bailed on Brit and took his hair extensions with him, reported People.com at the time.