Celebrity Hair Stylist Joseph Chase Picks The Top Four 'Do's Of The Golden Globes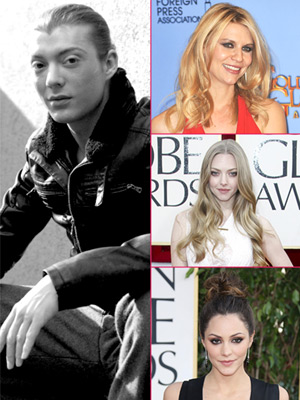 Article continues below advertisement
"Her hair was classic old Hollywood," he explains about the look. "Love it pulled back to one side with a finger waved inspired look. It pulls the whole look together with elegance."
Katharine McPhee was also a Smash in his style book.
"All eyes on McPhee!! Her dress was definitely a statement and stood out among the safe players of the red carpet," he says of her steamy Theysken's Theory style. "I loved how she wore her hair in a messy bun to keep the look edgy, sexy, and fresh."
New mom, and Homeland winner, Claire Danes, also did right by Chase.
"Everything about this look screams sexy! The hair was complete bombshell to complement her bombshell dress. WOW sums it up."
But his favorite look of the night, was courtesy of Les Miserables bombshell, Amanda Seyfried.
"While most went in one direction, her look combines elegance and sexy," Chases gushes. "The hair was flawless perfection to match her beautiful gown that she wears most gracefully! I give 5 out of 5 stars to her beauty team."
Keep checking back to RadarOnline.com for all of your award season coverage!