Sister Wives' Kody Brown Reacts To Son Leaving For College; Why Doesn't The Family Live Together?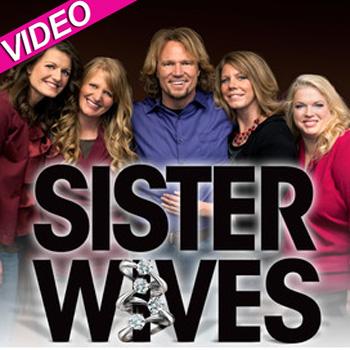 Change was in the air on Sunday's season finale of Sister Wives, as Kody Brown said goodbye to his college-bound son Logan, then sat down with wives Meri, Janelle, Christine and Robyn for a special called Sister Wives: Secrets Revealed, engaging in a frank discussion about family issues.
Kody was very emotional about his son Logan moving away from home to attend school at the University of Las Vegas, marking the first of his 17 kids to leave home.
Article continues below advertisement
"I am sensing this almost euphoric excitement that Logan's having," Kody explained. "I realize he's only a half-hour away, but he's still leaving the house. This is like a benchmark where he's saying, 'See ya mom and dad, I'm my own person.'
"So I'm mixing these two emotions -- his euphoria that he's feeling, this excitement that he has to get out and see the world -- coupled with my melancholy about him leaving," Kody said.
Logan said he was conflicted as well, relishing the family circus environment -- a cavalcade of "attention, love, activity and life" -- but, at the same time, wanting to gain some independence as he emerges from his formative years.
"On my own it'll be my opinion and no one else's -- my decision and no one else's," Logan said.
As a gift for the outgoing Logan, the family presented him with a "virginity quilt" in UNLV colors, as a reminder to stay chaste until marriage.
Article continues below advertisement
Watch the video on RadarOnline.com
On Sister Wives: Secrets Revealed, the clan sat down to answer questions from fans, one of them being why all of the wives live in separate homes.
"I want them to have their autonomy, so that one wife isn't being stifled by the relationship inside a home with another wife," Kody said.
Janelle said that the foundations of their polygamist lifestyle aren't tied into sharing a kitchen.