Sister Wives: Meri's Daughter Urges Her To Use Robin As Surrogate, Browns Approved For Home Loan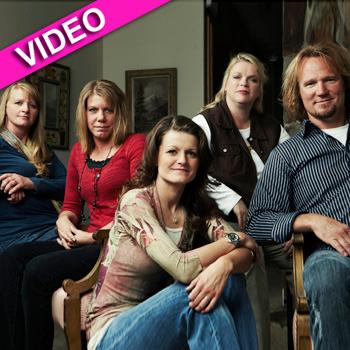 The Sister Wives are back and they've brought four times the drama.
In the season premiere of Season 4, Meri's daughter Mariah pushed her to take Robin up on her offer of surogacy, Robin's bad credit jeopardized the Browns chances of qualifying for four separate home loans, and RadarOnline.com has the details.
"I always get really nervous and scared when there's a possiblilty of my previous marriage affecting the family now," Robin said.
Article continues below advertisement
"I know that we're all in this together, but I don't want it to be me that stops everybody from moving into these homes."
But the Browns eventually headed to the realtor and found out all four wives had qualified for their home loans. One by one, they were each handed their approval letter. All were happy and relieved, but none more than Christine.
"I failed at too many things in life.'" Christine said.
"I've been overweight my whole life. Obviously I failed with that. There's just a lot of things where I feel like I'm failing right now, and so being approved was huge."
While Mariah was preparing for college and worried that her mom Meri would become sad and lonely.
"Mom's saying that she's gonna be an empty nester when I leave and honestly I'm hoping she's not," Mariah said. "I'm hoping that she takes Robin up on her offer."
Article continues below advertisement
Last season, after Robin had her first child with Kody, she selflessly offered to carry another child for Meri since she's unable to carry her own.
"I feel like you have this choice, and if you choose not to then you're taking something away from all of us," Mariah said to her mom.
"I feel like if it's sitting in front of you, why not take it?"
Meanwhile, Janelle felt the tremendous stress of the family's crippling finances, and made it known that she was struggling with the way that financial matters are handled in the family.
"Through the years, our money has been divided across the family. I always made more money than the other sister wives," Janelle said.
"I sometimes would resent when Meri would think 'I get this' or I' get to do this.' Or I would feel like she spent her money on something when I couldn't because I was paying a big chunk of the household."
Janelle also reflected on the possibility of leaving the polygamist lifestyle.
Article continues below advertisement
"Because I do so much of the family record keeping, and a lot of this is on me now, I have wondered what would happen if I just decided one day I was done and ran away," she confessed.
"But of course my sense of responsibility is screaming at me."
One way the family was planning on making more money was opening an online jewelry boutique called My Sister Wife's Closet, and while all five adults went to a photoshoot for the website, Kody made it clear that all of his wives needed to take turns standing next to him in each photo.
"No, switch wives," Kody told the photographer. "I want a different woman next to me."
During discussions with the Brown children, it was clear that the kids have different ideas about their futures when it comes to their religion and whether or not they would want sister wives.
"I don't wanna share my husband, and I don't think its for me," Janelle's daughter Madison said.
Watch the video on RadarOnline.com
Article continues below advertisement
However, Mariah had a very different view of her future.
"Just because I wanna be a fundamentalist Mormon and I wanna have sister wives doesn't mean I cant be a doctor," Mariah said.
"I'm not just opened to the idea, I'm going to have sister wives."
Sister Wives airs Sundays at 9/8c on TLC.
RELATED STORIES:
Sister Wives Son Is A 'Monster' Says Dad Kody Brown