Sister Wives: Meri Tells Kody She's 'Freaked Out' About Surrogacy Dilemma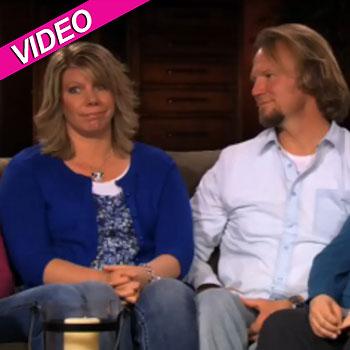 Kody and Meri Brown broke down in an emotional discussion about having a child -- by taking up Robyn's offer to serve as their surrogate -- on Sunday's edition of TLC's Sister Wives.
The two were on vacation, and Kody shrewdly used the idyllic backdrop to ask Meri the difficult question.
He explained: "I had Meri in a very romantic spot, and I was very specific with questions to her about wanting another baby."
Article continues below advertisement
Asked about the issue by Kody, Meri said, "This freaks me out to go through all that again, and I don't know if I wanna do that at this point in my life -- I feel like I'm too young to go through having an empty nest, but I'm too old to start a family."
Kody reassured her: "It's OK: Whatever you wanna do."
"This is stupid, this is stupid," Meri said. "I don't know what I want."
"Do you understand that not having any children doesn't change your value to me?" Kody asked her, adding, "You need to know that in your heart."
Meri replied, "I don't have an answer for you right now -- I just don't -- I'm sorry."
Meri added she wished it was just as easy as getting pregnant on her own.
In background clips, sister wife Robyn said she believes Meri wants to try in-vitro fertilization on her own.
Watch the video on RadarOnline.com
As RadarOnline.com previously reported, Meri recently revealed that her last pregnancy tragically ended in a miscarriage. The couple has one child together, daughter Mariah.
Article continues below advertisement