Brown Kids Help Escaped FLDS Youth, Sister Wives Defend Polygamy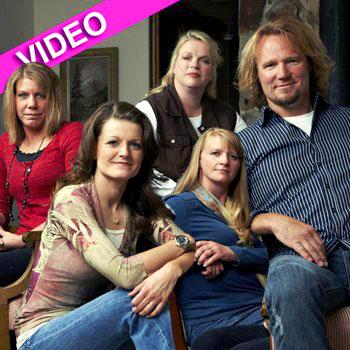 On Sunday's episode of Sister Wives, three of the older Brown kids went to Utah to volunteer with an organization that helps families escape from the
Fundamentalist Church of Jesus Christ of Latter-Day Saints -- or FLDS Church, known to some as Mormon Fundamentalists -- and RadarOnline.com has your full recap.
While the Brown kids were eager to relate to the FLDS teens through Holding Out Help, not everyone was as enthusiastic as the teens got ready to leave Las Vegas for Utah.
Article continues below advertisement
"I'm not 100 percent in favor of this trip," Christine said. "Tania, the founder of Holding Out Help, I've heard enough stuff that's questionable about her in particular -- and I don't know if I could trust her.
"What if, when I was struggling with Kody, I went to her? What if God forbid, she helped me get out?"
Though the Browns were concerned that their children would be brainwashed by the charity, they also saw the benefit of their children learning about how polygamy can be abusive.
"The reason I would let my kids be exposed to this is that I want them to see what's really going on," Kody said. "If there is abuse, or if there is evil, I don't want them turning a blind eye to it. I want them to understand it so that they can oppose it.
"We've met people like that, who have had a really bad experience with it, and they basically say that polygamy is abuse. And when we deal with that, it's like, 'Listen, spend a week with our family … because you're making a blanket statement on something that you don't understand.'"
Article continues below advertisement
While in Utah, the Brown kids met with other teens who have had horrific experiences living the polygamist lifestyle. While sympathetic, they felt the need to explain that not all polygamists are the same.
"I'm frustrated because these kids were treated like that, and they saw a really bad side of polygamy," Madison said. "And if they saw good side of polygamy, and they were raised the way they should have been, then they would have been a lot happier.
"The fact that people like Warren Jeffs abused it and treated those people that way is disgusting," she went on. "And so all these kids know is the evil side of polygamy. All of them are emotionally-scarred, and it's disgusting. I understand that they think that were fake and naïve -- I would too if I was in their situation."
The former FLDS teens were invited to visit the Browns in Las Vegas, in hopes that they would see the positive side of polygamy. Kody, however, had a difficult time dealing with them.
Article continues below advertisement
"It was such an interesting reaction that I had," Janelle said, when two of the Brown girls showed up to a picnic in traditional FLDS garb. "I didn't expect it. I was surprised that a dress would symbolize to me the loss of agency."
Christine added: "It's a dress of oppression."
The former FLDS teens were understandably skeptical of the Browns, and Robyn definitely understood why.
"I was in an abusive relationship, and I was abused," she said. "And people gave him the benefit of the doubt over and over again. Sometimes when you don't see what's right before you and accept that there's something wrong going on, then it continues to happen.
"And that's what happened to me."
But the Browns are proud of way that they raise their children, and confident that they see the upside in polygamy.
"I think all of the kids have understood that the way that they were brought up, versus the way that these other kids were brought up, are two complete separate worlds," Christine said. "And even though there is one thing in common, which is polygamy, it's lived so vastly different in each of the communities, and I don't see it being a personal issue with their belief system."
Article continues below advertisement