Sister Wives Argue Over The Size Of Their Homes, Meri Undecided About More Kids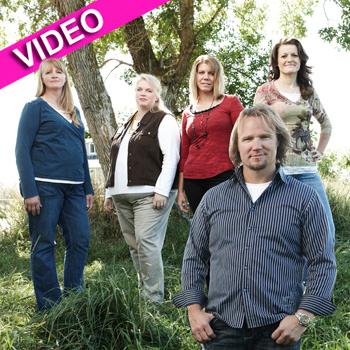 The Sister Wives family struggled with decisions regarding moving into their new homes and whether or not Kody Brown and Meri should try for another baby in Sunday's episode of Sister Wives, and RadarOnline.com has the details.
The Browns met with the builders of their new homes to discuss their options regarding bedrooms and add-ons, and this all struck a nerve with some of the sister wives.
Article continues below advertisement
"I began to worry that somehow what I needed would be sacraficed for what somebody else wanted in the name of equality of budget," Janelle said.
"That's where my real fear came into the situtation that somehow I would be without something that I needed."
Meri argued that she should be allowed the same size home simply because not having a bunch of kids to fill the bedrooms was not her choice.
"If it happens that these are the only kids that I'm gonna have for the rest of my life, these are the kids that I want to feel welcome and loved in my home," Meri said.
"And I wanna have this space for them to feel that. It the roles were reversed I'm sure that I would feel frustrated too."
Kody felt caught in the middle and didn't want to seem like he was playing favorites.
"I didn't wanna look like Meri was getting a big house because she's the first wife." he said.
"In the end we came to the conclusion that the best way to do it is everynody gets the same budget and everybody gets to work with what they have."
Article continues below advertisement
Later, Kody pressed Meri on whether or not they should try more drastic options in order to have another child, but she remained uncertain.
"We've tried all these other fertility things in the past, and nothing's worked," Meri said. "The only thing that we haven't done is invitro."
"Some days I'm like, 'Let's just do it and see what happens' and let fate take its course," Meri said. "But then there's some days where I'm like, 'Do I really wanna do that?'"
Kody was adamant that she come to some sort of decision, whether it be yes or no.
"The clock is ticking on this," he said. "Let's make a discission. What are we gonna do?"
Meanwhile, the Browns oldest child Logan graduated from high school, and the parents seemed to be ill prepared for his big day. Not only did Robyn miss his walk across stage because she got lost, but so did his own mother Janelle.
"We were all frustrated so I don't think we were all interacting," Janelle confessed.