Exclusive
Storage Wars Star Refuses To Deny Show Is Fake, Lashes Out At Cast Member Who Filed Lawsuit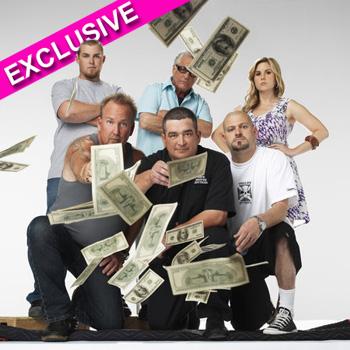 Article continues below advertisement
Instead, Sheets lashed out at fired cast member Dave Hester who exposed the show's practices in a lawsuit he filed against A&E and its production company, alleging that scenes are routinely faked. Hester's suit provided details about producers planting interesting and/or valuable items in purchased lockers.
RadarOnline.com reported exclusively that producers often "salted" the lockers in front of multiple eyewitnesses while taking a break from taping and even paid some cast members a "rental fee" for interesting items they already owned to be placed in the lockers!
A&E has not commented on the lawsuit, but the network has previously contended the show is real.
Now Sheets, who scored what appeared to be a major find of artwork in an episode that aired this week, is uncomfortably ducking the issue and refusing to repeat his network's assertion that the show is real and not staged.
"Darrell, are u denying lockers have been "salted" during the show's run? And will you deny it when deposed?," Sheets was asked five times in two days by RadarOnline.com's managing editor.
Article continues below advertisement
The question was sometimes slightly rephrased but Sheets ducked it every time. He did, however, continue to throw a few barbs at his nemesis Hester, who fired back by claiming Sheets' art find was highly overvalued.
Several sources have told RadarOnline.com that Sheets, and other cast members, were aware of the practice of salting lockers and in his lawsuit Hester says cast members openly discussed it this year in a meeting with network and production company officials.
But when asked about the faking of scenes directly by RadarOnline.com on Wednesday, Sheets replied: "it wasn't Dave's way it was sad he would walk off from the auction, the network called his bluff now he is out.go get a job."
Sheets also tweeted: "Dave's 15 minutes are up, the network could not deal with his bullying ,anger, complaining everyday when he was there it was miserable."
But during the past two days he has refused to deny lockers were salted by the show. (If Hester's lawsuit, filed by Beverly Hills power lawyer Marty Singer, does not get settled out of court, Sheets will likely be asked this question under oath.)
Article continues below advertisement
Insiders have told RadarOnline.com that during the show's first season the producers left a trail of emails, invoices and checks that will help prove Hester's claim items are planted in lockers. At least two cast members were paid a "rental" fee for placing their own valuable and interesting items in lockers (after the lockers were purchased) to be "discovered" on camera.
Other cast members had lockers salted for them by producers.
Article continues below advertisement
Sheets has good reason to duck the question about the show's practices: he is also earning a mid to high six-figure sum per season from the show and he is well aware the show fakes scenes, multiple sources tell RadarOnline.
The show features Sheets, Jarrod Schulz, Brandi Passante and Barry Weiss as bidders at public auctions for abandoned storage lockers. The network also has Storage Wars: Texas on the air, and Storage Wars: New York in the works, making the controversy over faking scenes a high-stakes issue.