Exclusive
'I Still Feel Traumatized!' Disabled Girl Detained By TSA Speaks Out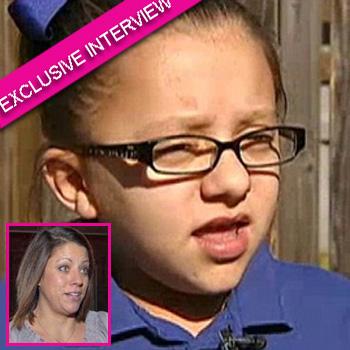 The 12-year-old girl filmed crying after TSA agents at a Texas airport detained her, claiming she tested positive for explosive residue on her hands, tells RadarOnline.com exclusively that she is still "traumatized" a week after the incident.
In an exclusive interview with RadarOnline.com, Shelbi Walser says she is still in shock by the event that caused a public outcry when video footage of her red-faced and in tears was released.
Article continues below advertisement
"I feel like traumatized, but I'm getting better," she tells us.
"I didn't know what was going to happen and what the they were going to do to me. I thought they might take me away.
"When they said I tested positive for explosive residue on my hands I didn't say anything. I was just in shock."
Shelbi was flying to Florida from Dallas-Fort Worth International airport with her mom Tammy Daniels when the incident took place on December 8. The little girl makes the trip at least twice a year to receive treatment for brittle bone disease, which has left her wheelchair-bound.
"It's going to make me a little nervous because I don't know if I'm going to test positive again," she says about flying in the future. "I'm going to have to wash my hands before I go through security."
Daniels says she believes the "explosive residue" could in fact be fertilizer that Shelbi's wheelchair may have picked up on their property.
"We live in the country," she says. "Wheelchairs go through everything. Her hands have to touch the wheels.
Article continues below advertisement
"In lieu of having a fire truck take us to the airport so they can wash her wheelchair down prior to going in, I don't know what we're going to do. I don't want it to happen again.
"At one point, while we were waiting, Shelbi said: 'Mom I just want to go home. I don't want to go to Florida'."
While Daniels – whose husband Clifton Daniels has done two tours in Afghanistan and in Iraq as part of Military Intelligence – is aware of the need for extra airport security since the 9/11 attacks, she says no protocol seems to have been followed.
The mom-of-three says the TSA agents called two bomb and explosives experts, whom she saw making calls on their cellphones. After seemingly getting no response at the other end they just decided to let Shelbi go.
Daniels says: "I understand TSA safety, however, they were not doing their job.
"If they were, they would have tested her wheelchair. If they were so worried about the explosive device wouldn't they be worried if she was sitting on a bomb?
Article continues below advertisement