Exclusive
Explosive Details! Inside Feuding Jessica And Joe Simpson's Secret Meeting!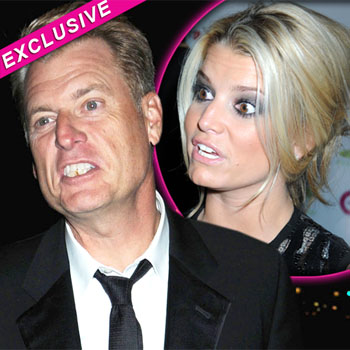 Article continues below advertisement
But Jessica, 32, told Joe where to go and also blasted him over her belief that he has been taking advantage of her younger sister Ashlee!
"Joe has been begging Jessica to meet up with him to talk ever since the gay scandal broke," a source close to the Simpson family tells RadarOnline.com.
"So, she finally relented and agreed to meet him at Café Med in LA – Joe told her that there were a lot of TV offers on the table that they needed to go through. But no sooner than Jessica sat down at the table, she told Joe that she didn't want to do anything TV-related and wanted to concentrate on her fashion line instead.
"Her mom Tina manages the fashion side of things and Jessica said she feels more comfortable working with her rather than Joe.
"As far as Jessica's concerned, she is done with her father and doesn't want to see him again," the source reveals.
As RadarOnline.com previously reported, Jessica and Joe's fractured relationship made scheduling requirements for filming NBC's Fashion Star more difficult for producers because she didn't want him on set.
Article continues below advertisement
But, because Joe is still under contract to be Jessica's manager they had to find a way to may it work.
"Joe has been respectfully turning up at NBC at times he knows Jessica won't be there," a source close to the Simpson family previously told RadarOnline.com.
"It's the only way that it could have worked, because Jessica is struggling to work with him around her. Jessica comes in, fulfills her work requirements and leaves, and then Joe comes in later to check in with producers and conduct any meetings that are needed.
"Jessica just doesn't want any awkward run-ins with him and doesn't feel comfortable with him being around her right now. She's still struggling to come to terms with Joe's coming out, leaving her mom and his gay affairs and doesn't want to work on re-building their relationship until she's good and ready -- and that's not right now.
"At the moment, she hasn't quite forgiven him and is also considering new management when her deal with her dad expires," the source revealed.