Exclusive
Robert F. Kennedy Jr. Ready To Propose To Cheryl Hines, Eager To Put Wife's Suicide Behind Him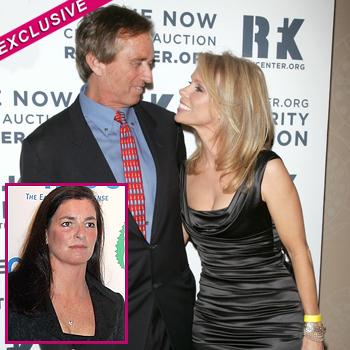 Article continues below advertisement
"Robert has already bought an absolutely stunning engagement ring and is now in the stages of planning the perfect scenario in which to propose to Cheryl," a source close to the Kennedy family tells RadarOnline.com. "He knows she is the woman he wants to spend the rest of his life with and he wants to seal the deal as soon as possible and prove to her how serious he is.
"Robert is aware though that it hasn't even been a year yet since Mary killed herself and he doesn't want Cheryl to be subjected to any negative backlash, she's an innocent party in this whole mess and he wants to shield her from any criticism as much as humanly possible.
PHOTOS: Mary Richardson Kennedy's Sad And Lonely Gravesite
"His and Mary's divorce was close to being finalized at the time of her death, and Robert says he would of likely already married Cheryl by now if he didn't have to deal with the suicide and its aftermath. Although he accepts that publicly he has to maintain an appearance of mourning, he points out that their marriage had been over for a long time at the time of Mary's death and he is more than ready to move on now and marry again."
Article continues below advertisement
As RadarOnline.com exclusively reported, Kennedy sent his 16-year-old daughter, Kyra, to live with Hines in Los Angeles following her mother's suicide
PHOTOS: Mourners Gather For The Funeral Of Mary Kennedy
52-year-old Mary Richardson was found hanging in the family barn in May, with a close friend telling RadarOnline.com that the former architect was "extremely down, depressed and despondent" about her future, particularly in dealing with money issues as her divorce from Kennedy Jr. came ever closer to being finalized. The source said Mary was also struggling to accept Kennedy's new high profile relationship with Hines.
"Robert doesn't want to appear to be insensitive, but he believes he has the right to get on with his life, and his relationship with Cheryl is an integral part of that. He has discussed his intention to marry again with his family but hasn't broached the issue with his kids yet. Robert is confident though that they will accept it and be happy for him, and if that's not the case he maintains that they will eventually learn to accept it."
Article continues below advertisement
As previously reported, in a shocking move, following Mary's burial, Robert had her body dug up and moved from its original grave site and reburied in a much more remote location of the cemetery, causing her family much anxiety.
The grave's headstone simply says 'Mary Richardson' on one line and then in a larger size her married last name, 'Kennedy' - the only other inscription is her date of birth and date of death.
In front of the headstone is a Blessed Mother Mary statue, a St. Francis statue and hidden in the flowers a small elephant statue.
A local resident who recently visited the cemetery told RadarOnline.com that she was "shocked" by the location of Mary's grave and by the lack of any inscription celebrating the life of the mother of four.
"The grave site is at the front of the cemetery but in an area not well kept at all," the resident said. "So anyone that goes there has no privacy. You can see it from the road either driving or walking. The last picture shows the headstone facing in the opposite direction of the other graves in the area.
Article continues below advertisement
"On the other hand the other deceased family members' graves are surrounded by shrubs in a beautiful area. Mary's grave even though close to the front is isolated from the nicest areas with green grass etc. It is so sad and lonely. And how about the stone? Nothing except birthday, date of death and name. No 'beloved' or 'loving daughter,' 'mother' anything. Disgusting. I never even met her but she sure deserved better than this. It's truly shocking and very sad."
Meanwhile, in the run-up to their impending engagement, Robert and Cheryl have gradually been going more public with their relationship and appear happier and more in love than ever. The couple attended the Deer Valley Celebrity Skifest at the Montage Deer Valley in Park City, Utah over the weekend where they posed happily for photos with Cheryl's Curb co-star Larry David.