She's With The Band! Lindsay Lohan Caught In Backstage Hug With The Wanted's Max George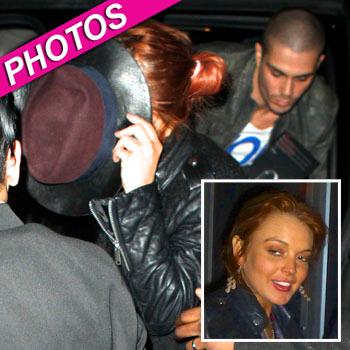 Are Lindsay Lohan and Max George getting serious? It looked that way in NYC Friday night when the troubled starlet was caught in a major clinch with her Brit boy band beau.
The Liz & Dick star was backstage with the boys before their performance at the Z100 Jingle Ball concert, and was seen giving Max a long emotional hug.
She also joined the band in their Madison Square Garden dressing room, helping herself to some of their Kellogg's Pop-Tarts -- Pop-Tarts is a Z100 sponsor -- and later joined Max at his suite in the Dream Hotel.
Article continues below advertisement
"We can stay out of trouble and keep her out of trouble," Max told a Z100 DJ.
That may be the official un-party line but Max was a little more candid with E! News, confessing that Lohan "can party, like, nearly as hard as we can."
LiLo's career as a Max groupie began when she went to see him in concert in New York November 28, and ended up getting arrested early the next morning after allegedly punching a woman at a nightclub after-party.
MORE ON:
Celebrity Justice
She's traveling with the guys on their tour bus, and has been to shows with them in Philadelphia and Boston in addition to the two New York City gigs.
Her Almost Famous-like persona may not be able to last long though. Lindsay is facing criminal charges in Santa Monica, CA for lying to cops after an auto accident, and may still be charged in New York for the alleged assault.
RELATED STORIES:
Are Things Really THAT Bad? Ali & Lindsay Lohan Selling Their Used Clothes