From 80s Superstar To Hammered Subway Singer! Kim Wilde In Reindeer Antlers Sings Drunk On A Train!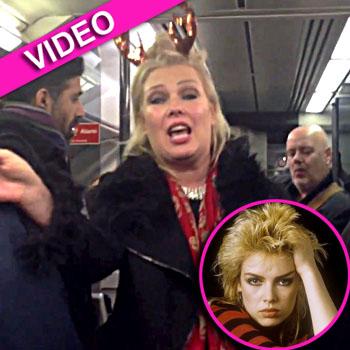 Kim Wilde had a slew of hits back in the 80s in both her native Britain and Stateside, but after the huge success of Kids In America and Keep Me Hanging On the singer appeared to fade into oblivion, and announced in 1998 that she was retiring from music and embarking on a new career as a landscape gardener.
But, now she's back….. In fine form!
The 52-year-old made the day - heck, probably even the year - for a bunch of sullen London commuters this week when she burst into an impromptu, and highly inebriated, performance of her 1981 smash hit.
Article continues below advertisement
With a pair of glittery reindeer ears perched atop her messy blonde hair, Wilde proved she still has The X Factor, belting out Kids In America accompanied by her brother Ricky Wilde on guitar and backing vocals.
And, that's not all!
Mindful of fully entertaining her captive audience, the singer graciously continued her performance, announcing to the crowd, "Everyone, it's Christmas time, and I'm going to sing you a Christmas song!" Then embarking on a somewhat shaky rendition of Rockin' Around the Christmas Tree.
Wilde's awesome "comeback performance" was captured on camera by subway passenger Katherine Eames who posted the footage to YouTube on Friday, writing, "After a truly rubbish day, I got on the train home and couldn't get a seat, a man pulled out his guitar 'Oh here we go!' I thought. Then a drunken woman starts singing. Hang on a minute, I know that voice?! It really was KIM WILDE! This totally made my day. Thank you. She is an absolute legend!"
Article continues below advertisement
Kim, who was returning home from a, presumably very drunken, Magic FM radio station Christmas party at the time of her singing session, was clearly feeling the full effects of her boozy reveling the next morning.
"Just coming round after @Magic/Kiss party, assisted by a bacon and egg sarnie ;)." She Tweeted.
The video rapidly went viral and by Friday afternoon Kim's name was once again on everyone's lips in England and she was trending high on Twitter, something the singer-turned-gardener found highly amusing according to her management team.
"She's giggling about it and thinks the reaction on twitter is great fun," her spokesman said in a statement.
Kim later followed up with another tweet of her own: "Truly, I am overwhelmed and confused at such a huge reaction to my night out on the tiles. Making me giggle a LOT: )."
youtube