X Factor Picked Up By Fox For Third Season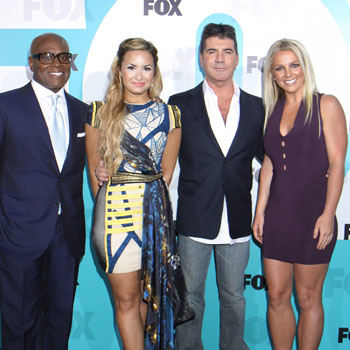 The X Factor has been picked up for a third season and Simon Cowell "couldn't be happier," he said.
The British reality singing contest has been a runaway success in America and has attracted millions of viewers as well as launching the career of season one winner Melanie Amaro. So the network behind the show, Fox, want more of the action!
The announcement was made on Monday but nothing has come out yet about whether the current judging panel, consisting of Britney Spears, Demi Lovato and L.A. Reid, will change.
Article continues below advertisement
As the live shows for this season are about to kick off, Cowell said: "I am so proud of the show and the team who have made it this season.
"I have to personally thank our amazing fans for the support and enthusiasm they have given to The X Factor.
"Our main commitment will always be to find great talent, and let's not forget, we are now days away from our first live shows.
"The gloves are off. Expect fireworks!"
He also Tweeted: "I wanted you guys to be the first to know that Fox have confirmed that @TheXFactorUSA will be back next year for it's third season."
Mike Darnell, President of Alternative Entertainment, Fox Broadcasting Company, added: "This season, Simon and the producers of The X Factor took an already strong show and made it absolutely fantastic.
"The format changes are working, the contestants are unbelievably talented, and Britney and Demi – alongside Simon and L.A – have brought an incredibly fun new chemistry to the judges' panel that our fans really love."